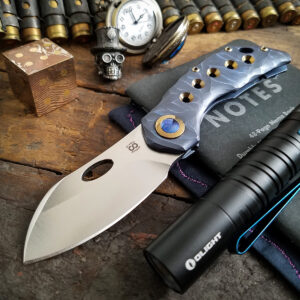 What makes the Olamic Busker B523L a fascinating knife? Well, the detail and finish work that goes into this knife results in an almost ever-changing appearance. The more you look at it, the more detail you see, but this knife is not just another pretty face. The Busker is built with stellar materials, a fast action, and has multiple opening options.
The Busker 523L has a 2.375" satin finished Largo blade shape (which is like a smooth Sheepsfoot) and a blade thickness of 0.138". It rides on a caged ceramic ball bearing pivot system, so it quickly and smoothly flicks open with either the thumb hole cut out or the front flipper. The ceramic ball detent ensures this knife stays closed when it's meant to stay closed. This model has a bronze raised pivot collar on both the front and back handle.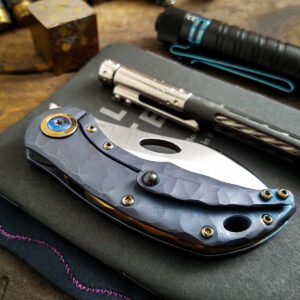 It's a framelock with a stainless-steel lockbar insert and an over-travel stop for a solid and reliable lock up. A ton of work goes into making this titanium frame simply stunning. It is rocks sculpted with a blue seabed finish and the result has an incredible amount of depth and movement. Olamic tells us, the rocks sculpting is "…random sculpting on titanium frames, backspacers, and clips. This style reduces slightly the weight of the knife and its handle thickness while allowing for a number of cool color/finish options." The seabed finish has a "…two-tone look and depth of color this style of sculpting is mandatory on the titanium itself. Seabed finish is characterized by having a deeper tone in the valleys and lighter, more polished tones in the peaks."
The holes in the B523L handles are anodized bronze and it has matching hardware. The titanium tip-up pocket clip matches the frame with the rocks sculpting and seabed finish. It also has a glossy bronze seabed backspacer.
Olamic Busker B523L Details
M390, Satin Finish
2.375" Largo Blade
0.138" Blade Thickness
Thumb Hole Opener or Front Flipper
Caged Ceramic Ball Bearing Pivot System
Ceramic Ball Detent
Framelock with Overtravel Stop and Stainless-Steel Lock Insert
Anodized Titanium Handles
Sculped Rock Pattern, Blue Seabed Finished
Five Holes, Bronze Accented
Seabed Backspacer, Glossy Bronze
Raised Bronze Pivot Collars on Presentation and Clip Sides
Matching Titanium Tip-Up Pocket Clip with Ceramic Retention Ball
Lanyard Hole
Certificate of Authenticity
2.99 Ounces
3.5" Closed
6" Overall
Made in the USA
The USA-made Olamic Busker B523L has a cohesive overall look with a ton of detail and incredible amounts of hand work. It's a beautiful knife with an amazing action that makes an excellent addition to any knife collection. If you're interested in this knife, click any link in the article. To see them all, simply click the button below.


All images courtesy of Smoky Mountain Knife Works – smkw.com.