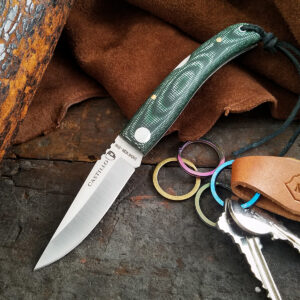 If you're looking for a slicey EDC that is Old School with new materials and a sleek look, the Castillo Navaja might just be the knife you're after. It's a simple, sleek lockback with slim lines and nice materials.
Spanish knife maker, Castillo Knives says they have a passion for Spanish-made cutlery, and "for keeping the tradition alive in the region of Castilla-La Mancha." They combine "both form and function" while also striving "to share this story, by paying homage to the region and meeting the modern demands of everyday use." They did it well with the Navaja.
The Castillo Navaja features a 3″ Sandvik 14C28N stainless steel straight back blade with a satin finish and a blade thickness of .08″. It's a traditional two-hand opener with ample room to open it with a pinch grip.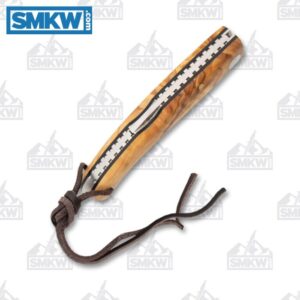 The blade locks into place with a traditional mid-locking lockback. But, it's surrounding by some very nice filework on the backsprings that surround the lock.
The slim handle comes in many different flavors, but we loved the pine green Micarta version. It's also available with Curly Birch, Bocote, and Olive Wood handle scales. They all have black G-10 underliners and brass pins. The birdseye pivot is stainless steel, as is the lanyard tube at the end of the handle.
The Navaja is just 3.5″ closed and 6.5″ overall. It weighs in at 2.4oz and comes with a genuine leather carrying pouch, as well as a single-use Ballistol wipe.
Castillo Navaja Details
3″ Sandvik 14C28N stainless steel Straight Back Blade
.08″ Thick
Satin Finish
Lockback
Pine Green Micarta, Bocote, Curly Birch, or Olive Wood Handles
Black G-10 Underliners
Filework on the Backsprings
Brass Pins
Steel Pivot and Lanyard Tube
Lanyard Cord
Leather Pouch
Ballistol Wipe
3.5″ Closed. 6.5″ Overall. Weighs 2.4oz.
Made in Spain
We really enjoyed handling the sleek Castillo Navaja. It would work well as a day-t0-day EDC. If you're interested in more options on this knife, you can click any link in this article or the button below.