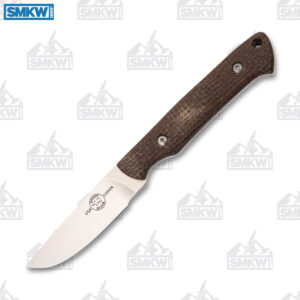 We've been on this kick for a while now. Fixed blades need to make a comeback as EDC knives. Yep, we said it. We should get back to carrying fixed blade knives on our hips every day like we used to. Yes, we know it's old school, and we don't think you need to strap on a Rambo bowie, but a good small fixed blade is perfect for everyday carry. In fact, the USA-made White River Small Game knife – designed by custom knifemaker Owen Baker, Jr as part of White River's BAKR-BILT series – just might be the perfect EDC hip companion.
At just 7.25″ overall, this full tang fixed blade is intended for skinning out small game, but hear us out. It weighs under 3oz. and the deep carry traditional leather sheath makes it almost unnoticeable on your hip. Pair that with its 2.4″ S35VN drop point blade, and you've got a helluva EDC user at your grasp any time, anywhere.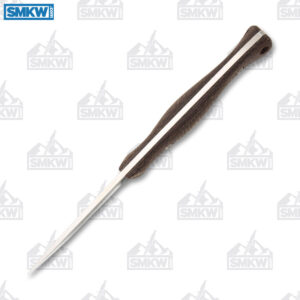 The White River Small Game knife is no slouch either. The S35VN will get sharp and stay sharp.  It's 1/8″ thick, and the burlap Micarta handles are gorgeous. They're contoured to swell in your palm and give you an ample finger choil for your pointer. That means you get a great grip on a small knife.
We liked that the handles are attached with torx screws, which means you can pop those puppies off any time you want and give your knife the deep cleaning it deserves. And, of course, there's a lanyard hole that goes through the tang, so you lanyard lovers can attach whatever you want to it.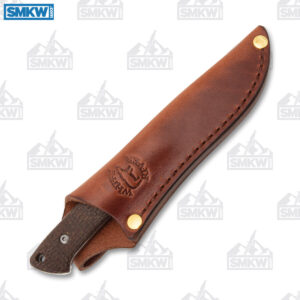 White River Small Game Details
2.4″ S35VN Drop Point Blade
Stonewash Finish
Full Tang Fixed Blade
Burlap Micarta Handles
Lanyard Hole
7.25″ Overall
Brown Leather Sheath
Made in the USA
Look, we think making the White River Small Game your daily hip carry is a great idea. Give it a go and tell us what you think. We're showing the burlap Micarta version in this article, but there are lots of flavors to choose form. If you're interested in getting one of these, simply click any link in this article or the button below.