We weren't sure that designer, Kensei Chris Rossman could top his Kensei Karombi, but the Kensei Tactical Knife very well might. This 10-inch, full tang fighting knife features a modified drop point blade with recurved belly, Manji-style guards, and a tactical hawk beak.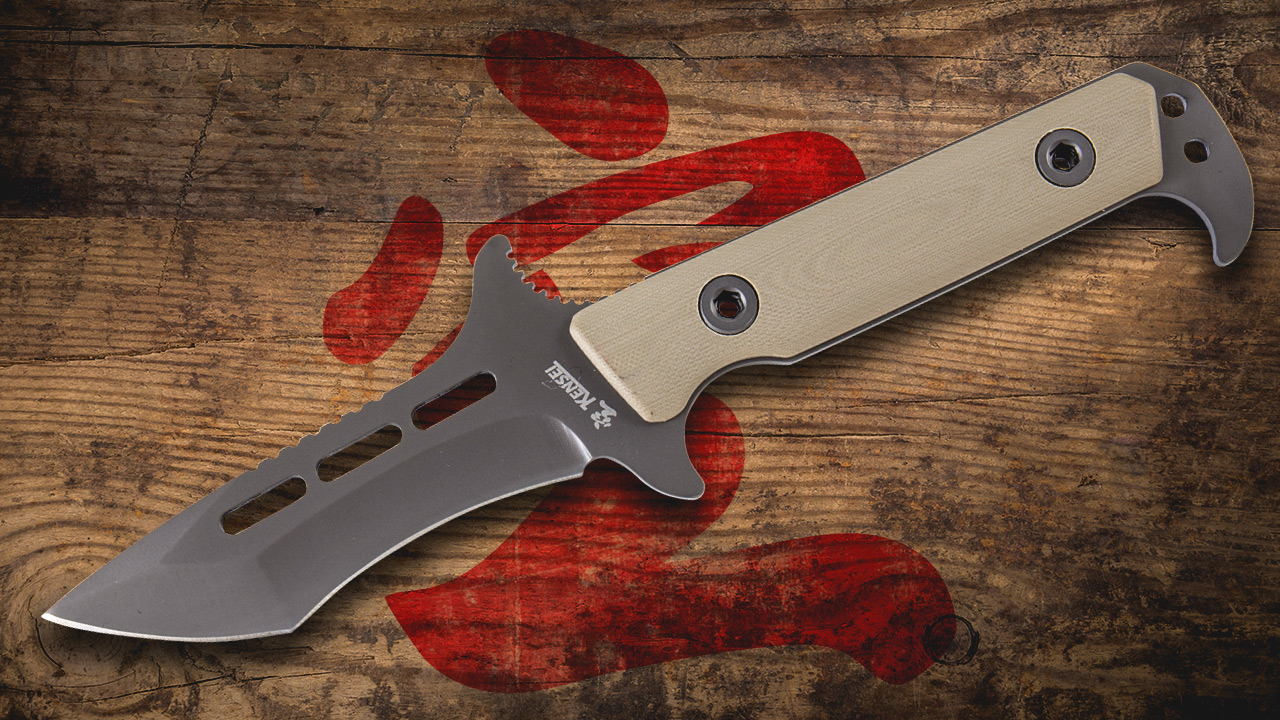 The silhouette of the Kensei Tactical knife reminds us of a shark, and frankly, that description is fitting. The modified drop point blade is titanium-nitride coated, 440A stainless steel which reduces glare and helps prevent rust and corrosion. Jimping on both the guard and the spine provides good grip in the messiest of situations, and the Manji-style guards allow you to deflect strikes and counterstrike in close quarters combat. The hawk beak at the butt of this knife not only serves as a finger guard, but allows you to rip and gash your opponent with the pommel of the knife during combat.
The OD Green, G10 handles provide great grip but keep the handle slim and light. The Kensei Tactial Knife comes with a ballistic nylon sheath and shoulder harness that can be worn under the arm or mounted on a belt or pack with the harness detached.
Click on any thumbnail below to launch a slide show of larger images.
The Details
Titanium-Nitride coated 440A stainless steel blade
Manji-Style Guards
Vacuum holes
Full tang construction
Blade jimping
OD green G10 handles
Double hollow rivets
Hawk beak pommel
Lanyard/ lashing holes
4-3/8″ modified drop point blade
10" overall
Ballistic nylon sheath with detachable/adjustable shoulder harness
The Kensei Tactical Knife is available at Smoky Mountain Knife Works(smkw.com) for only $24.99. Simply click the button below to find it.