We've covered some of the exciting, higher end new releases from CRKT. You've likely wondered about their more budget friendly options. Well, wonder no more. Here are three new knives from CRKT that are both affordable and great looking.
CRKT Offbeat II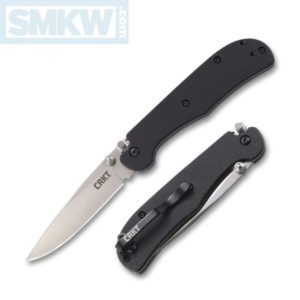 Designed by Pat Crawford, the new CRKT Offbeat II is a lightweight, medium sized folder with a great lockup. CRKT tells us, "Before the CNC machine revolutionized our industry, Pat spent an inordinate amount of time cutting handles out of titanium and fitting folders together by hand. So, to expedite the process, he simplified his design. Inspired by a Boy Scout wire handle folder, he invented the Crawford Lockback—an innovation that has proven its worth and is the defining characteristic of the incredibly unique Offbeat and Offbeat II."
The satin finished, 3.237″, 8Cr13MoV drop point opens with a thumb stud. Once open, the blade firmly locks into place with the Crawford Lockback. CRKT explains, "As the classic drop point blade is deployed, the cutout slides around the butt end of the blade until it reaches a notch along the backside. Then, it seats snugly into place, effectively locking it. To disengage, push up on the thumb stud and fold it closed."
The Offbeat II has black glass-reinforced nylon handles. They're smooth enough to not be hard on the pocket while also providing a great, slip resistant grip. It also has an ambidextrous, tip-up pocket clip.
CRKT Offbeat II Details
8Cr13MoV, Satin Finish
3.237" Drop Point
GRN Handles
Crawford Lockback
Ambidextrous Tip-Up Pocket Clip
3.3 Ounces
4.342" Closed
7.58" Overall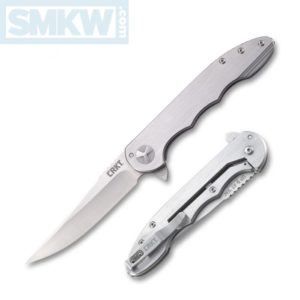 CRKT Up & At 'Em
New from CRKT, the Up & At 'Em is one of the latest additions to their stellar stainless-steel line of knives. Much like the Pilar and the Jettison, the Up & At 'Em is a great looking knife.
Designed by Matthew Lerch, the flipper opening 3.62" two-tone satin and brushed finish 8Cr13MoV clip point is fast and smooth. It has jimping along the spine and along the base of the flipper. Once open, the blade locks in place with a frame lock.
The brushed stainless-steel handle features a decorative pivot and machined details that give this knife a touch of sophistication. It also has a tip-up pocket clip.
CRKT Up & At 'Em Details
8Cr13MoV, Satin and Brushed Finish
3.62" Clip Point
Brushed Finish Stainless-Steel Handles
Frame Lock
Flipper
Tip-Up Pocket Clip
4.2 Ounces
4.72" Closed
8.34" Overall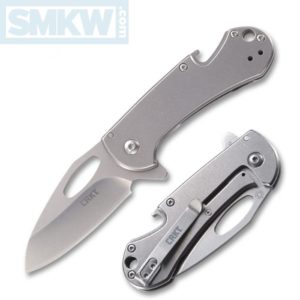 CRKT Bev-Edge
For an affordable, multi-tasking knife that's perfect for daily carry, you can't go wrong with the new CRKT Bev-Edge. Designed by Eric Ochs, this knife is a fast and fun. Best of all, you can pick it up for about $30.
The 2.5" 8Cr13MoV blade is available with a stonewash finish drop point or a black stonewash finished tanto point blade. The lubed bearings in the IKBS pivot system ensure a fast, smooth opening with either the flipper or the easily indexed thumb hole. Once open, it locks in place with a frame lock.
The stonewash finished stainless-steel handle houses an ambidextrous tip up pocket clip. Finally, Bev-Edge comes with an integral bottle opener, making this the perfect knife if you like to finish off the day with a cold one.
CRKT Bev-Edge Details
8Cr13MoV, Stonewash Finish, Black or Plain
2.5" Drop Point or Tanto Tip
Stainless Steel Handles
Frame Lock
Flipper or Thumb Hole Open
IKBS Ball Bearing Pivot System
Ambidextrous Tip-Up Pocket Clip
Bottle Opener
Lanyard Hole
3.8 Ounces
3.5" Closed
6" Overall

You can get any of these three new knives from CRKT for $35 or less. If you're interested in these knives, click any link in the article or simply click the button below.


All images courtesy of Smoky Mountain Knife Works – smkw.com.