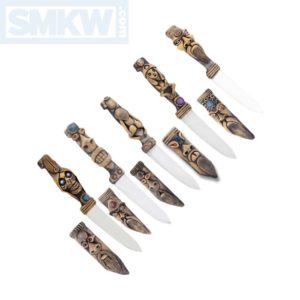 Sometimes a great deal of consideration goes into investing into your knife. Other times, it's just a fun knife. They're often inexpensive, occasionally gaudy, and frequently amusing. We vow once a week, Editor Permitting, to write at least one article about a knife (or a series of knives) that are just for fun.  This week's just for fun knife choice is the Handmade Amazon Jungle Knife.
For a mere $10, you get a mystery knife that could be any one of five designs. You know those mystery gifts? It's like that. You'll get one of the five possible choices. Will it be the butt-knife or the scary skull knife or the monster face? Who knows! Who cares! They're awesome.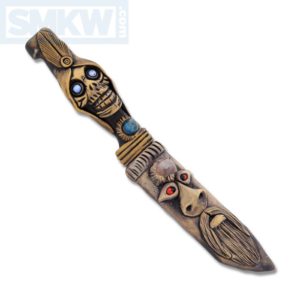 Remember when you were a kid and begged your parents for cereal, so you could get one of the possible toys out of the box?  That's what these knives are like. They're the fun surprise at the bottom of the box.
SMKW tells us they are "handmade in the Peruvian jungle" and having looked at them, there's almost no doubt they were indeed handmade.  The blades are carbon steel. The overall length varies from about 8.75" to about 10.25". There are five designs and each design can vary in size, style, and accoutrements.
Handmade Amazon Jungle Knife Details
Five Fun Different Assorted Designs
Carbon Steel Blade
Handmade Decorative Sheath
8.75" to 10.25" Overall Length
The Handmade Amazon Jungle Knife makes a fantastically fun addition to your more seriously considered knife purchase. At $10, we know we'd certainly try our best to collect 'em all because they're just fun. To get one of these knives, click any link in the article or simply click the button below.


All images courtesy of Smoky Mountain Knife Works – smkw.com.