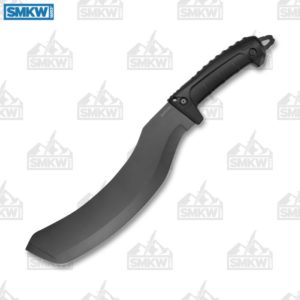 The Kershaw Camp 12 is a Southeast Asian-inspired all-purpose machete that works great on the trail, in the backyard, or at the campsite. This entry into their Camp line of knives has a Parang design similar to machetes that originated around Malaysia. They were used for tackling heavy brush and used in thick jungle areas. Kershaw has simply translated that design to an economical version for a variety of uses. It's now available for about $20.
The Camp 12 features a full tang MN65 carbon steel blade with a black oxide finish. It measures right at a foot long and its general shape makes it suited for a variety of tasks. You can use it for camp work like splitting small logs, making wood chips for fires, and making shelter pieces. It also works great around the yard for managing brush and soft foliage.
The grooved and textured GFN handles are weather resistant and provide a great grip in hand. It also features a protruded lanyard loop built into the tang for added security during hard use. While it does not come with a carry sheath, it does include a hard plastic blade guard to protect the edge when not in use.
Kershaw Camp 12 Details
MN65 Carbon Steel, Black Oxide Finish
12" Parang Blade
Full Tang
Glass Filled Nylon Handles
Dual Lanyard Holes
Blade Guard
1 lb. 4.6 oz.
18.9" Overall
For the price, you really can't go wrong with the Kershaw Camp 12. It fills the role of a general all-purpose machete or large camp knife. If you want to get one for your gear setup, click any link in the article or the simply click button down below.

All images courtesy of Smoky Mountain Knife Works – smkw.com.