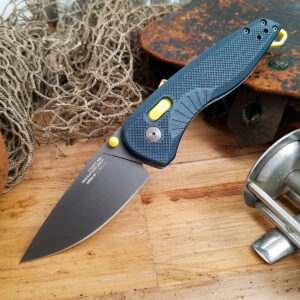 The new SOG Aegis AT-XR with indigo and acid handles looks cool as heck. SOG tells us it was, "[d]esigned for outdoor users, Aegis AT features rapid assisted opening with SOG's innovative ambidextrous AT-XR Lock with an ergonomic handle and grip pattern for comfortable use." Let's take a look at it.
The SOG Aegis AT-XR features a 3.13" D2 tool steel drop point blade that's been cryogenically treated and titanium nitride coated. D2 is a high carbon steel with almost (but not quite) enough chromium to be considered stainless. It's a more corrosion resistant steel than many non-stainless steels. The coating further protects the blade from rust.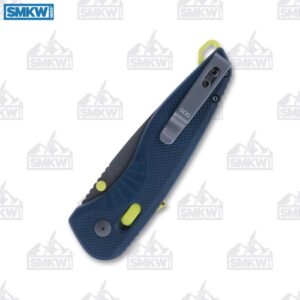 This knife quickly flicks opens open with Acid Green spring assisted ambidextrous thumb studs. There's jimping along the spine for a great grip in a variety of holds. It's a full-sized EDC and the indigo blue GRN handles are comfortable even in larger grips. There's enough grip to provide slip resistance but not so much it wears you out.
Lock up with the AT-XR is rock solid. Whether you're a left or righty, simply pull back on the acid green slide to unlock the blade. There's also an easily indexed safety switch that SOG calls "Safety 2.0" on the spine. It has an ambidextrous, tip-up pocket clip as well as a generous lanyard loop integrated in the acid green back spacer.
SOG Aegis AT-XR Details
Cryo D2, Titanium Nitride Coated
3.13" Drop Point
0.12" Blade Thickness
Assisted Opening
Acid Green Thumb Studs
GRN Handles
AT-XR Lock
Spine Mounted Secondary "Safety 2.0" Switch
Acid Green Lanyard Loop and Back Spacer
Ambidextrous Tip-Up Pocket Clip
5.15 Ounces
5.01" Closed
8.14" Overall
Overall, the new SOG Aegis AT-XR is a seriously good-looking knife. It has a fast action, an ergonomic grip, and it's fully ambidextrous. If you're interested in this knife, click any link in the article or simply click the button below.


All images courtesy of Smoky Mountain Knife Works – smkw.com.