We know we wrote about a small full tang fixed blade just yesterday. However, we felt it was urgent to get this LT Wright Python Micarta Frontier First in front of you today. Why? Any LT Wright knife tends to quickly sell out and we wanted you to have your shot at this little beauty.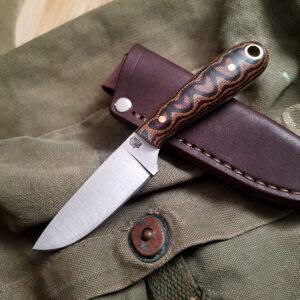 We've spared never been one to spare the adjectives when it comes to LT Wright or his knives. The too long, didn't read version: We're fans. Why are we fans? Let's start with how his company stands behind their product 100%, and they are about as open and honest as the day is long. They not only have a lifetime guarantee on their knives, but they also offer a lifetime sharpening service if you'll just kick in a bit on the shipping (which is more than reasonable if you ask us.) His knives are truly exceptional. They're small batch made, right here in the USA, by hand and by skilled artisans. We've never seen one that had anything but an outstanding fit and finish. We've also had the honor and the pleasure of meeting him more than once. We also passionately believe he's a truly decent and kind human being who is well worth your hard-earned EDC dollars. He also has a seriously devoted following amongst knife collectors.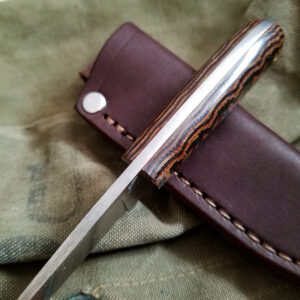 Now, the LT Wright Frontier First isn't the biggest or beefiest knife you could ever own. It's small with only a 2.2" CPM-3V drop point blade with a sharpened 90-degree spine. It has a blade thickness of just over an eighth inch and it's hardened to 57-59 HRC and it is razor sharp, straight out of the box.
For those of you unfamiliar with CPM 3V, according to the Crucible data sheet CPM 3V "…is a high toughness, wear-resistant tool steel…" that is "designed to provide maximum resistance to breakage and chipping in a high wear-resistance steel. It offers impact resistance greater than A2, D2, Cru-Wear, or CPM M4." All that means it's a tough steel with a ton of wear resistance that is generally less likely to chip that other blade steels.
As we said up there, it's a full tang fixed blade. It has riveted python micarta handle scales and a generous lanyard tube. The F&F on this knife is excellent as always, and these handle scales are just stinking gorgeous. We've seen his Python Micarta before but not up close. There's multiple layers of color and depth that simply blew us away. Pictures simply don't do them justice.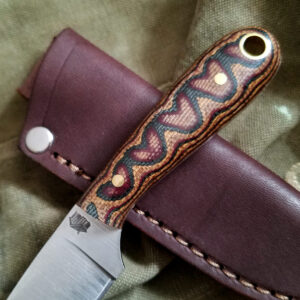 The LT Wright Frontier First comes with a quality leather sheath with a belt loop attachment made by JRE Industries and it's incredibly nice. However, with this size on this one, and with the easy ride in the pocket we know it'd be, we'd dearly love to see it with one of their custom Kydex sheaths with the layered G-10 cutouts? You can't see it, but we just shivered a bit as we imagined the Editor's Ebenezer glare and imagined the "…it comes with a danged good sheath, why do you need another sheath" lecture.
Speaking of sheaths and an easy carry. We should address the very small elephant in the room. There's no denying this is a small knife. For a size comparison, the ESEE Izula has a 2.875" blade length and an overall length of 6.25", whereas the Frontier First has a 2.25" blade and an overall length of 5.5". All that means this knife is only about ¾" or 0.75" than the ESEE Izula. If you've ever carried one of those, you know for a fact that even though they're small, they are a breeze to carry and can come in super handy.
LT Wright Python Micarta Frontier First Details
CPM 3V, Satin Finish
2.25" Drop Point
0.125" Blade Thickness
Sharpened 90-Degree Spine
57-59 HRC
17-20 Degree Angle Edge
Full Tang Fixed Blade
Riveted Python Micarta Handle Scales
Lanyard Tube
USA-Made Leather Sheath
6.25" Overall
Made in the USA
If you're looking for beautiful small, full tang fixed blade that's hand built by craftsman in the USA you seriously can't go wrong with the LT Wright Python Micarta Frontier First with Python Micarta handle scales. It's a gorgeous knife. To get it, simply click the button below.


All images courtesy of Smoky Mountain Knife Works – smkw.com.