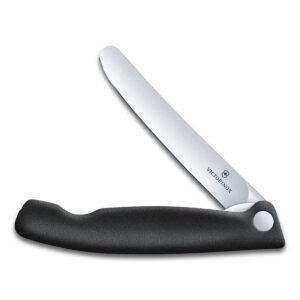 Look, not every article here is going to be about some awesome technological breakthrough in the world of cutlery. Not every knife can be a Vox or Burnley masterpiece. Some knives are just boring as hell, and we know that. Take for example, the new Victorinox Swiss Classic Folding Parer. It's boring as hell. It's literally dishwasher safe, which isn't one of those features you'll ever find high up on the list of game-changing knife features, but what the Swiss Classic Folding Parer is, however, is useful.
This knife is a folding linerlock that opens up to a serious 8.8″ overall. At 4.3″, the blade is just one-fifth of-an-inch shorter the handle. It's not exciting. It's good ole, 1/16″ thick Victorinox stainless steel that lasts and holds an edge and doesn't corrode easily. It comes with either a plain or "wavy" serrated edge, and frankly, it looks like a folding, locking butter knife on steroids. But, what it does do well is exactly what it's supposed to do. It's a paring knife. It slices. Really well.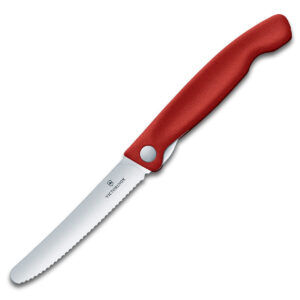 The handle doesn't live on the edge of high tech either. It's polypropylene. We know this composite. It's easily moldable, hard, and cleans up easy. It doesn't hold bacteria like wood. It's dishwasher safe, and you can beat it like there's no tomorrow.
Victorinox contoured this poly handle to fit your hand and gave it texture for grip. They made it available in Swiss Army red and black, and they even slipped an easy-open slot in there, so they didn't have to mess up the face of the blade with a pull.
Why am I writing about it, you ask? Well, it's been living in my kitchen drawer for the last week and a half. Every time I need a knife I grab this boring thing and use it. I've peeled potatoes. I've sliced jalapenos for my ghetto nachos. I've sliced tomatoes. I've cut open a box from Amazon, and I even sliced through one of those more ridiculous clam packs.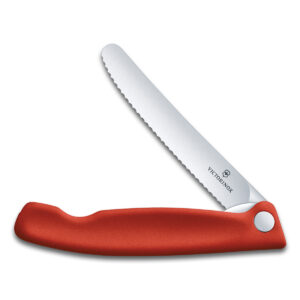 Every time I'm done with it, I lock it open and throw it in the dishwasher. I don't wipe it. I don't rinse it. I just literally throw it in the dishwasher like it was a fork I've owned since college – and you know what? It comes out of the dishwasher like it's brand new. I fold it up, throw it in the drawer, and when I need to slice something again, out it comes.
If I camped, this thing might go with me. It's light, and I probably wouldn't notice it in my backpack if I had one. If I fished, I'd probably throw it in my tackle box, but fish are nasty and smelly, so I don't have a tackle box, and I don't plan on getting one any time soon.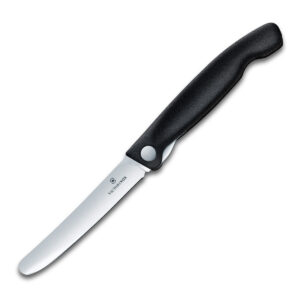 Here's the thing. I'm not posting a pic of this thing with my pocket dump on Instagram. I'm not going to brag about it to any of my friends, but what I am going to do is use it to cut up my Totino's Pizza in a 12 minutes and 31 seconds, because I still can't find my pizza cutter.
Victorinox Swiss Classic Folding Parer
4.3″ Stainless Steel Paring Blade
Available in Plain or Serrated
Liner Lock
Polypropylene Handle
Dishwasher Safe
4.5″ Closed
8.8″ Overall
1.5oz
If you're interested in one of these Victorinox Swiss Classic Folding Paring Knives, stay out of my kitchen drawer. You can find one of your own by clicking any link in this article or the button below. They're $16.80 each. Splurge.