In case you didn't know it, Knife Newsroom will be at the 2016 Blade Show in Atlanta. Not only will we be there, but we're actually a gold sponsor (sponsoring Wi-Fi Communication for the event), and since we're a sponsor, we figured we should give something away. Of course, we wanted this thing – this giveaway – to be awesome, so we started trying to find someplace that could provide awesome. Turns out that awesome can be provided by Smoky Mountain Knife Works – and boy did they ever provide an awesome giveaway for us. Here are the details:
At the 2016 Blade Show in Atlanta (June 3-5), come by the Knife Newsroom table and learn how to register to win a Summer Fun Pack provided by Smoky Mountain Knife Works. The Summer Fun Pack includes:
Marble's Deluxe Alaskan Wilderness Set of 4 Survival Heads (Retail Value: $20)
Tru-Spec Boonie Hat (Retail Value: $13)
SOG Seal Team Elite with Sheath (Retail Value: $109)
$200 Smoky Mountain Knife Works Gift Card
Yeti Hopper 30 Cooler ($350)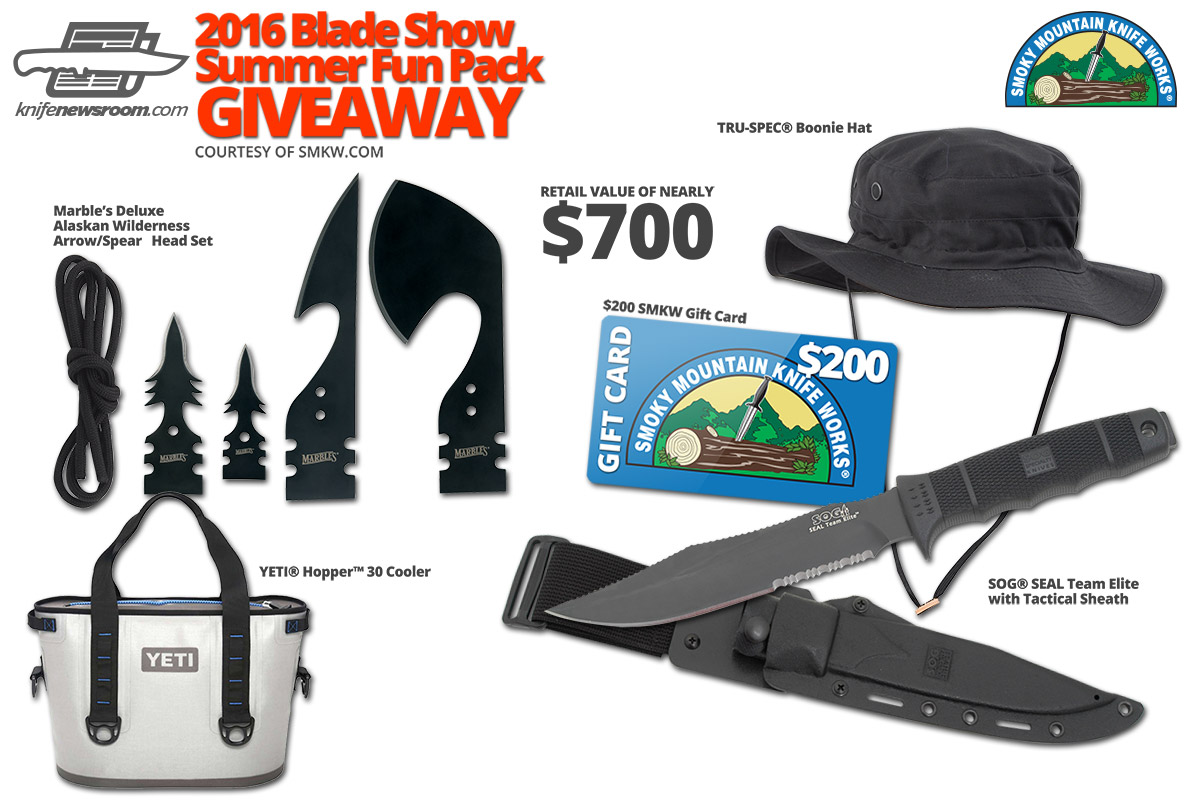 Now, here's the thing. When we went to pick up this amazing giveaway from Smoky Mountain Knife Works in Sevierville, Tennessee, we realized that when the Zombie Apocalypse strikes, SMKW is the perfect place to hole up. We're not kidding. Seriously. Don't stop reading. Hear us out.

First off, let's talk bail out strategy in case we're ever overrun. Smoky Mountain Knife Works sits just four miles off of Interstate 40 (exit 407) – one of the main corridors that crosses the entire country and hooks in minutes with I-81 and I-75, depending on which way you're headed. You can literally reach a major Interstate in less than 4 min (at the speed limit which we're totally going to ignore if there's a Zombie Apocalypse). SMKW also sits gateway to the Great Smoky Mountain National Park (20 miles at most to be in the mountains). That means if we want to go old school survivalist, build a cabin in the woods and hope there's no such thing as zombie deer or bear, then it's easily an option. Beyond that, SMKW sits right on the French Broad River – which is a tributary of the Tennessee River which will get you all over the Southeastern United States.

[google_map_easy id="1″]

Second, let's talk about the building itself. This thing is a fortress. It has a massive blue metal roof that is going to last forever, and that thing is capped by – I kid you not – an actual tower that is open to all vantage points. It's a good 60 feet up, and on a clear day you'll be able to see for miles in any direction (no zombie herds or marauders will ever sneak up on you in this place). There are large entrances on three sides of the building – into two levels nonetheless – even a double-bay loading dock in the back, but once you're inside of this thing, that's where the real action is.
Smoky Mountain Knife Works bills itself as the "World's Largest Knife Showplace" and it does not disappoint. The inside is of the building is a massive and filled with every kind of cutting tool you can imagine – knives, pocketknives, tactical knives, swords, multi-tools, kitchen knives, and even machetes and axes of all sorts. It is a virtual smorgasbord of zombie dispatch. And that doesn't even touch the fact that SMKW added Smoky Mountain Guns and Ammo to the front of the store a couple of years ago. That's right, besides the cutlery, there are an amazing array of guns and ammo right there in the big blue roofed fortress. Now, lest you think that's it. They have tactical gear. Tactical clothing. Survival gear. Rope. Paracord. A cooking section with food stuffs of all sorts – snacks for days. I'm not kidding when I say that if you got locked in, you could live for weeks on just what's there at this very moment.
Now, we assume that in the back of the building where the offices and call center are located that there's probably a decked out break room as well as secure areas that would be perfect to hide away from zombies during the apocalypse, but we didn't get to see it. Apparently when you ask questions like, "How secure would you say these doors are?" and "Do you have a vault?" your tour of the building ends pretty abruptly.
Anyway, we took a vote as a group and Smoky Mountain Knife Works is the place we're going to hole up when the Zombie Apocalypse happens. You should go see it for yourself. It's awesome.
When you're at The Blade Show this year, don't forget to find us and sign up for that giveaway. Thanks to Smoky Mountain Knife Works, it's unbelievable – and it could be yours.