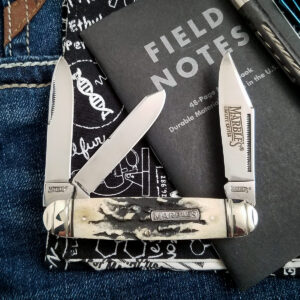 In case you don't know, it's impossible to get real stag these days. The stag embargo stopped all of that in its tracks quite a while ago, but that hasn't stopped knife makers from trying to produce stag-like quality in handle material. Very few of these handles really look or feel like genuine stag, but we think the Marble's Black Stag Bone series might be the closest resemblance we've seen yet.
Marble's used genuine bone handles and jigged that bone to resemble stag. The base color of the bone is white and smooth. The jigging is dyed black. The result is a non-stag, but natural handle material that looks very close to genuine black stag.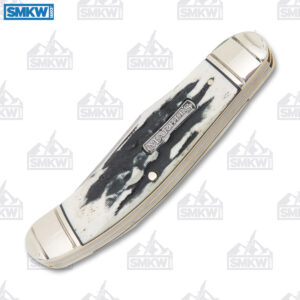 Marble's goes one step further and added black underliners beneath the black stag bone. You can see them as a stripe between bone and brass liners on the spine of the knives, and it really sets off the break between the white smooth portion of the bone and the striped and pinched nickel silver bolsters. Drop in the nickel silver Marble's shield, and you have handles that could easily be from the 1940's or 50's.
There are seven patterns in the Black Stag Bone series, and all of them feature 440A stainless steel blades with half stops and match strike pulls – including the long pulls. The blades themselves are heavily swedged and high polished for a very old school look.
The patterns are quite different from the standard lineup as well. The series includes the Sowbelly Stockman, the Cattleman's Whittler, the Congress, the Cattleman's Jack, the Canoe, the Congress Whittler, and Safety Folder (that has a swing guard and a safety blade guard).
Click on any thumbnail below to launch a slide show of larger images.
Marble's Black Stag Bone Series Details
440A Stainless Steel Blades with High Polish Finish
Half Stops and Match Strike Pulls
Genuine Bone Handles with Stag Jigging
Black Underliners
Brass Liners
Nickel Silver Striped and Pinched Bolsters
Nickel Silver Pins and Shield
7 Patterns Available
If you've been on the lookout for a close resemblance to stag or just a good old school traditional pocket knife, the Marble's Black Stag Bone series might be a good place to start. None of these will break the bank. In fact, with the exception of the Safety Folder that comes in at $19.99, all of the other patterns in the series are under $15  each. If you're interested in seeing the whole series or getting one of these, simply click any link in the article or the button below.


All images courtesy of Smoky Mountain Knife Works – smkw.com