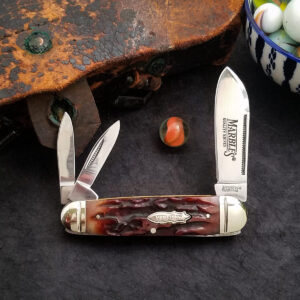 The Marble's Sleeveboard Splitback Whittler is a less common pattern and something of a throwback to old patterns and techniques you don't see much anymore. It has a great look. It makes a fantastic workhorse of a knife that you can pick up for about $13.
What makes a pattern a pattern, is it the blade configuration or the handle shape? The answer on that depends on the era in which you're asking the question. In the modern era, it can be either or both. The sleeveboard pattern means the handle shape has one end that's bigger than the other. It looks a bit like an ironing board.
One thing that's mostly held true throughout the ages is the fact that a whittler is a traditional slipjoint with a main blade that rests on at least two back springs. This makes it stronger. This Marble's Sleeveboard Splitback Whittler is a true whittler no matter how you define such things.
Mounted on brass liners and secured with brass pins, this knife has brown stag bone handles accented by lined nickel silver bolsters and a nickel silver bomb shield. All the blades are mirror polished 440A stainless steel that open with match strike pulls and have half stops. The 2.5" main spear point blade has a blade thickness of 0.125". The 1.69" second pen blades have a blade thickness of 0.06". It's 3.5" closed and weighs about 3.5 ounces.
Marble's Sleeveboard Splitback Whittler Details
440A, Mirror Polished
2.5" Main Spear Point
1.69" Secondary Pen Blades
Slipjoint
Match Strike Pulls
Half Stops
Brown Stag Bone Handles
Brass Pins and Liners
Nickel Silver Bolsters and Shield
3.5" Closed
6" Overall
The Marble's Sleeveboard Splitback Whittler is a fantastic throwback to days gone by. It makes a great, budget friendly addition to any knife collection. You can pick one up for about $13. To get this knife, click any link in the article or simply click the button below.


All images courtesy of Smoky Mountain Knife Works – smkw.com.