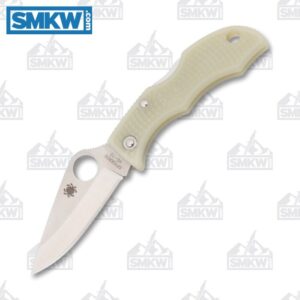 The Spyderco Glow Ladybug 3 will make you sing an old Mills Brothers song. Well, if it didn't before it probably will now that we've put "Shine little Spyderco, glimmer, glimmer" in your head. The Ladybug 3 is a small, lightweight pocketknife you can pick up for about $50. It has a good steel, lightweight handles, oh, and it glows in the dark. In case you missed the newsflash, we just love all things that glow in the dark.
This iteration of the Ladybug 3 has a 1.94" satin finished VG-10 leaf-shaped blade with a full flat grind and a blade thickness of 0.08". It's a manual folder with Spyderco's Trademark Round Hole and phosphorus bronze washers. There's a steep thumb ramp with jimping which allows fine control and a bit more room to maneuver.
Mounted on nested stainless-steel liners, the handles on this lockback are glow-in-the-dark fiberglass reinforced nylon (FRN). They're super grippy and almost slip proof. It has a handle thickness of about 0.32" and it weighs a mere 0.6 ounces. You can absolutely use the lanyard hole to attach it to your keyring, and you'll always have a good knife handy.
Spyderco Glow Ladybug 3 Details
VG-10, Satin Finish
1.94" Leaf Blade
0.08" Blade Thickness
Full Flat Grind
Trademark Round Hole
Phosphorous Bronze Washers
Lockback
Glow-in-the-Dark FRN Handle Scales
Nested Stainless-Steel Liners
Lanyard Hole
0.6oz
2.44" Closed
4.375" Overall
The Spyderco Glow Ladybug 3 is a charming little pocketknife that glows in the dark. Toss one in your purse, on your keychain for a practically perfect daily carry. You can get one for about $50 by clicking any link in this article or simply clicking the button below.


All images courtesy of Smoky Mountain Knife Works – smkw.com.