Back in the day, knife salesman traveled business to business hocking their wares. Traditional pocketknife lines were full, and any way a salesman could lighten his case was welcomed. One way knife companies did this was to create pocketknife samples that had different front and back handles. This allowed the salesman to halve the amount of samples in his case, because he could show you both bone and stag in the same knife. Here's where it gets fun. Salesmen realized quickly that with just a little sleight of hand, they could make it look like they made a single knife change color. That's how the "Magician's Knife" was born, and now Rough Ryder is offering a Magician's Canoe in their lineup.
This standard, full-size canoe pattern features genuine smooth bone handles. The front handle is red smooth bone and the back handle is green smooth bone. It has brass pins and liners, as well as nickel silver Slant R bolsters.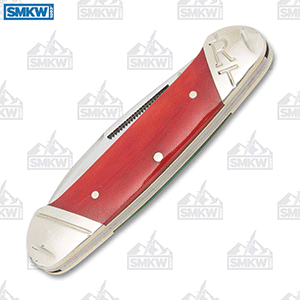 How does it work? Well, because the Canoe is an equal-ended handle, both sides will look identical while closed. When you show someone the knife for the first time, just make sure you only show one side. The viewer will assume both sides are the same. With the knife closed, cover it with a cloth or your other hand, and then subtly flip the knife. If you're nimble enough, the knife will appear to change color when it's revealed to the viewer again.
The Rough Ryder Magician's Canoe features a large and small spear blade. Both are 440A stainless steel with a high polish finish, half stops and match strike pulls. The Canoe is a great little traditional EDC that closes down to just 3.6″.
Rough Ryder Magician's Canoe Details
440A Stainless Steel Blades
Half Stops and Match Strike Pulls
Genuine Smooth Bone Handles
Nickel Silver Slant R Bolsters
Brass Pins and Liners
Large and Small Spear Blades
3.6″ Closed
Collector's Magnetic Clasp Box
The Rough Ryder Magician's Canoe is only $15, and it's a fun little party trick. Rough Ryder also makes a Magician's Lady Leg, but that one requires a little more convincing and a little more skill, because it's not an equal-ended pattern. If you're interested in one of these, simply click any link in the article or the button below.