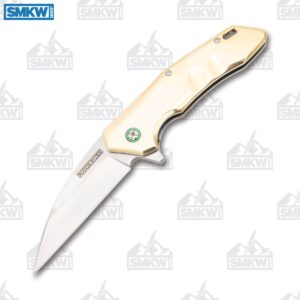 If you haven't noticed that Rough Ryder has been upping their game lately, you haven't been paying attention. In the last year, they've brought in their Reserve line and introduced modern knives in VG-10. The new Rough Ryder Brass Wharncliffe Flipper has everything you'd want in a modern flipper and a D2 blade.
The RR Brass Wharncliffe Flipper features a 3.75″ D2 tool steel Wharncliffe blade with a satin finish. It's a serious claw of a blade at .18″ thick. This manual flipper has a ball bearing pivot, so it pops open like a beast as well.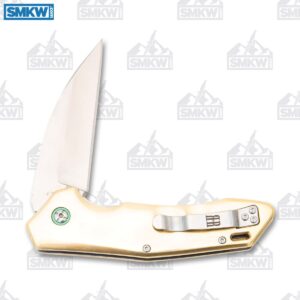 This linerlock has brass handles mounted on steel liners. That means it's going to pick up natural patina over time, or you can do all that fancy schmancy "shipwreck" stuff to it too.
The RR Brass Wharncliffe Flipper has an anodized green pivot collar, as well as a lanyard slot and a stainless steel tip-up pocket clip.
This full size EDC closes down to 5″ and is 8.75″ overall. All that brass and steel add some heft to this knife too. It weighs in at 8.3oz., but here's the kicker. This knife is only $35.
Rough Ryder Brass Wharncliffe Flipper Details
3.75″ D2 Tool Steel Wharncliffe Blade
Satin Finish
.18″ Thick
Manual Flipper
Ball Bearing Pivot
Liner Lock
Brass Handles
Green Anodized Pivot Collar
Lanyard Slot
Removable Tip-up Pocket Clip
5″ Closed
8.75″ Overall
Weighs 8.29oz.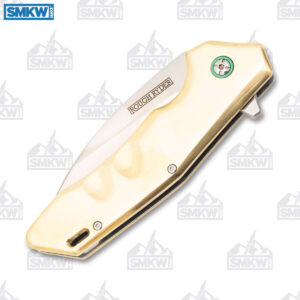 We get the feeling that with more than 25 years under their belts, Rough Ryder is ready to rumble. That's apparent in the Rough Ryder Brass Wharncliffe Flipper. D2, Brass, and ball bearings – all under $35. Pretty unreal, and we can't wait to see what's next for the brand. If you're interested in this knife, you can always click any link in this article or the button below.


All images courtesy of Smoky Mountain Knife Works – smkw.com