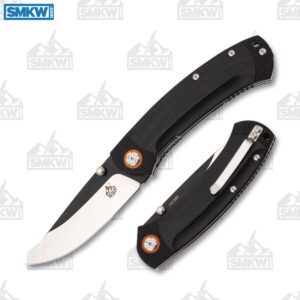 If you're not familiar with QSP Knives, and you like budget-friendly modern folders that look and work great, you need to get familiar. QSP is producing hard-working EDC folders with excellent action. The QSP Copperhead is no exception. It's a full-size thumb stud opener that performs as good as it looks.
The Copperhead features a 3.5″ 14C28N stainless steel drop point blade. It actually comes in two different blade finishes. There's the dual finish black coated and satin (which we love), and then there's the plain satin finish version. Both are .12″ thick.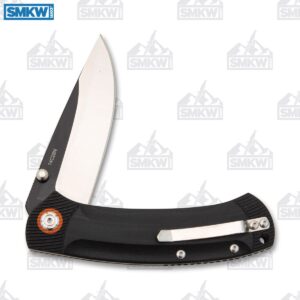 This liner lock is a thumb stud opener. There's no flipper, but it does have a ceramic ball bearing pivot system which  makes opening super smooth and easy – even with just a thumb stud.
The QSP Copperhead has machine contoured black G-10 handles with steel liners. We love the orange accent around the pivot, as well as the jimping in the palm and on the back spacer. It also has a removable, but not reversible tip-up pocket clip that really ties back into the blade finish.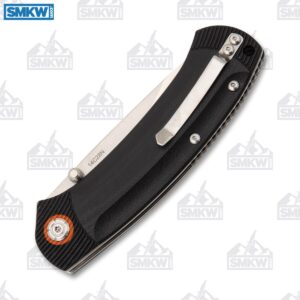 This is a full size EDC folder. It closes down to 4.75″ and is 8.25″ full open. Even with the steel liners, the Copperhead weighs in at just 3.5oz.
QSP Copperhead Details
3.5″ 14C28N Stainless Steel Drop Point Blade
Dual Finish or Single Finish (Satin/Black or Satin)
.12″ Thick.
Dual Thumb Studs
Ceramic Ball Bearing Pivot
Liner Lock
Black G-10 Handles
Orange Pivot
Steel Liners
Lanyard Hole
4.75″ Closed
8.25″ Overall
Weighs 3.5oz.
Here's the kicker when it comes to either version of the QSP Copperhead. They're both about $47. For the look, feel, and action on these knives, this just can't be beat. So, if you're looking for a budget-friendly modern folder, have a look at QSP for sure. What they're doing is reminiscent of Artisan and CIVIVI. If you're interested in getting one of these or just learning more, simply click any link in this article or the button below.


All images courtesy of Smoky Mountain Knife Works – smkw.com.