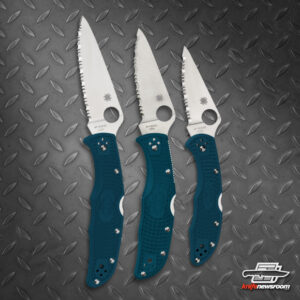 With no SHOT Show in sight, Spyderco took to the "interwebs" to reveal their first new products of 2021. There's a strong mix of new steel and color in this lineup. Let's take a look at what Spyderco showed so far in its 2021 hand.
Endura 4, Delica 4 and Endela get K390 with teeth
While Spyderco has offered K390 versions of their popular knives, 2021 brings teeth to the line. For the first time, Spyderco is offering fully serrated K390 versions of their popular Endura 4, Delica 4 and Endura models. All three come in a deep teal blue GFN handle material with all the same bells and whistles you'll find native to the original models.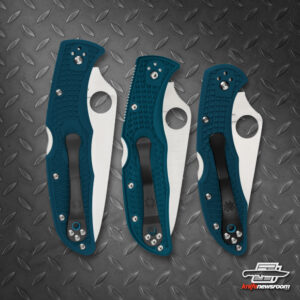 According to Syperdco, "K390 MICROCLEAN is a state-of-the-art tool steel developed to provide the extreme wear resistance and high compressive strength needed for demanding industrial applications. Enriched with vanadium, tungsten, molybdenum, and cobalt, when used in knife blades, its exceptional toughness and wear resistance lend themselves well to thin, high-performance edges—including the teeth of serrated edges. The new fully serrated versions of Spyderco's popular Delica 4, Endela, and Endura 4 take full advantage of K390's remarkable properties by offering the voracious cutting power of a SpyderEdge cutting edge and add the low-friction edge geometry of a full-flat grind."
Delica 4 K390 gets Wharncliffe treatment
Spyderco will now offer a Wharncliffe-bladed version of their K390 Delica 4. It too has the deep teal blue GFN handles. Spyderco says, "Many savvy knife users prefer the Wharncliffe-bladed version of this design, which features a perfectly straight cutting edge and a full-flat grind to create unparalleled edge geometry and low-friction cutting performance. Now Spyderco has elevated this elite folding knife to an even higher level by crafting its Wharncliffe blade with Böhler-Uddeholm K390 MICROCLEAN tool steel."
Dragonfly 2 gets two new versions
Spyderco will now offer the popular Dragonfly 2 in a K390 Wharncliffe and teal blue handle, and they've added a pink-handled S30V version available in satin or black finish. For all of you collectors, there has been a pink-handled version of the Dragonfly in the past, but that version came in VG-10 steel, not S30V.  In reference to the K390 Wharncliffe, Spyderco says, "When rendered with a straight-edged, Wharncliffe-style blade, its versatility is enhanced even further, giving it the capability to cut with impressive power or scalpel-like precision with equal ease."
Para Military 2 gets brown Micarta scales and CRU-WEAR blade
The Para Military 2 is one of the best-selling Sypderco knives of all time. It's revered by police, first-responders and military personnel around the world. 2021 will bring a new version of the PM2 with CRU-WEAR steel and brown canvas Micarta handles. Spyderco says, "The latest addition to this elite breed pairs a Crucible Industries CPM CRU-WEAR blade with classic brown canvas Micarta handle scales. Its full-flat-ground PlainEdge blade takes full advantage of CRU-WEAR's hard-earned reputation for taking and holding a superior edge while  remaining tough and resilient. Unlike the nested liners of most Para Military 2s, this expression of the design features full, skeletonized stainless steel liners that support its distinctively old-school Micarta scales."
The Stretch 2 gets K390 treatment as well
According to Spyderco, "Spyderco's venerable Stretch model is a purpose-designed folding hunting knife with a long, proud history that dates back to the early 1980's. Based on extensive customer feedback and real-world testing, its design has been steadily refined over the years to yield the current Stretch 2 Lightweight, which features highly evolved ergonomics, a deep index-finger choil, a stout back lock mechanism, skeletonized stainless steel liners, an injection-molded fiberglass-reinforced-nylon (FRN) handle, and a fully configurable four-position pocket clip. The latest expression of this remarkable knife raises the bar even higher with the unparalleled edge retention and toughness of a K390 tool steel blade. The full-flat grind of the straight-spined blade ensures outstanding edge geometry." This model gets the deep teal blue handle treatment as well.
Salt goes mostly green in LC200N
Spyderco will offer the Salt 2 and the Salt 2 Wharncliffe with bright green handles and LC200N steel blades. This is a departure from the bright yellow seen in the Salt H1 knives. Spyderco tells us they chose the high visibility green handle color "to ensure easy visibility when used in and around the water."
Sypderco says this about LC200N series, "This state-of-the-art, nitrogen-enriched material was specifically formulated to offer superior corrosion resistance and extreme toughness, even at high levels of hardness. NASA's material of choice for the ball bearings used in aerospace equipment, as a blade steel it provides an exceptional blend of toughness, edge holding, and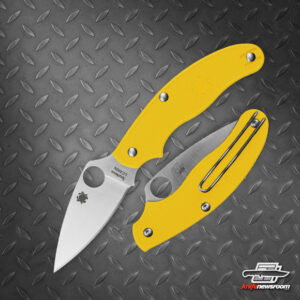 corrosion resistance. To maximize the benefits of this remarkable steel, the blades of Salt 2 LC200N knives feature a low-friction, full-flat grind and are available with a choice of a PlainEdge or fully serrated SpyderEdge formats."
Spyderco will also offer a bright yellow-handled Salt version of the UK Pen Knife. Though it is yellow, it's not H1. It's still LC200N.
If you're not familiar with this knife, Spyderco reminds us that the, "…popular UK Penknife was originally developed in response to restrictive knife laws in England that prohibited the carry of one-hand-opening lock-blade knives. A trailblazer of their unique SLIPIT line of knives, it provides the convenience of clip carry and one-hand opening, but in a legally friendly non-locking format."
Roadie gets new olive green and brown scales
"Slim, sleek, and amazingly pocket friendly, the Roadie is Spyderco's elevated expression of the classic penknife. Unlike a traditional nail nick, its blade features a distinctive "Double Dent"—a pair of symmetrical dimples in the blade—that provides a solid purchase for fingernail-free two-handed opening. Crafted from Böhler-Uddeholm N690Co stainless steel, its full-flatground, sheepfoot-style blade is impressively stout for its size and features a subtle index-finger choil to safeguard against unintentional closure of its "notched-joint" non-locking mechanism. Originally offered in a spectrum of bright colors, Spyderco has now introduced two new versions in subtle earth tones," Sypderco tells us. Enough said.
Lil Native goes SLIPIT
The Lil Native is now available in a slip joint version. Spyderco says, "Spyderco's remarkable SLIPIT family of knives combines the advantages of clip carry and easy one-handed opening with the broad legal acceptance of the non-locking folder. One of the newest members of this unique breed is the Lil' Native SLIPIT, which replaces the Compression Lock and back lock of the original model with Spyderco's "notched-joint" mechanism. An enhanced version of a traditional slipjoint, this mechanism uses spring pressure to hold the knife's full-flat-ground CPM S30V blade open, but does not lock it."
Yojumbo goes all black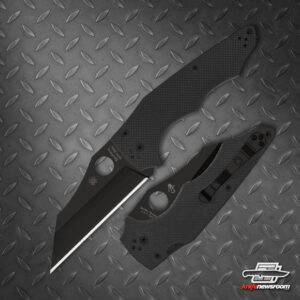 And last but not least, the ever-popular Yojumbo is going All Black in 2021. Spydeco says, "Ideal for users with large hands and those who prefer longer blades, this dramatic folder features a four-inch, hollow-ground, CPM
S30V Wharncliffe-style blade. To eliminate its reflective properties, the blade is cloaked in a low-profile Diamond-Like Carbon (DLC) coating and complemented by a matching black-coated four-position clip and handle hardware. Even the nested stainless steel liners that provide the structure for its patented Compression Lock mechanism have a stealthy black coating, making this expression of the YoJumbo perfect for use in environments where light discipline is a concern."
There you have it, the first reveal from Spyderco for 2021. We look forward to seeing what else they release throughout the year. As these become available for hands-on reviews, we'll be sure to write individual articles about them.