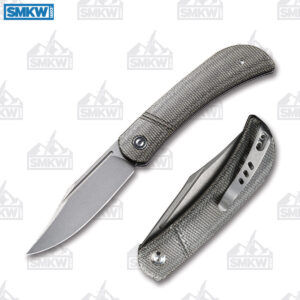 I hate to break it to you, but the Appalachian Drifter isn't a mountain boy makes good by joining a crew of illegal street racers who bust up a spy ring movie. Nope, it's not that kind of drifting. You can only imagine my level of disappointment when I found out that it's just a new, simple, straightforward slip joint pocket knife from CIVIVI. Apparently I'll never know if Billy screams, "Watch this, y'all!" as he pulls the e-break hard and glides around the street corner in the Smokies – but this knife is pretty cool – I guess.
Before you ask, it's pronounced 'app-uh-latch-uhn'. I know that because I was born and raised in Appalachia. There's no "ay" in it, okay?
The CIVIVI Appalachian Drifter is a 3.875″ slip joint knife. That's a good traditional size for a pocket knife – about the same as a standard Stockman pattern.
That size is easy inside the pocket, but you're only going to have to worry about that if your left-handed. If you're a righty, CIVIVI included a tip-up pocket clip (it's good to be in the majority, am I right?).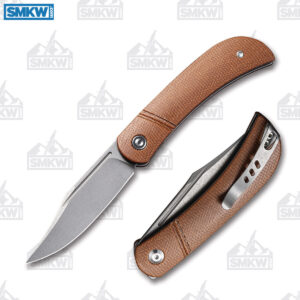 This knife features a 3″ CPM-S35VN clip point blade with a gray stonewash finish. There's a small jimped tab that protrudes from the bolster of the knife (parallel to the spine) that you can kind of use like a small flipper to get this knife moving to the open position.
If that seems overly complicated to you, there's a long pull on each side of the blade that makes this knife very easy to open with both hands. The double detente makes the Drifter walk and talk just like a traditional with a half stop.
The Appalachian Drifter's screw-on handles are Micarta, and it's available in dark green, olive green and brown. They're nicely contoured for grip, and they have embossed stripes that give the idea of a slanted bolster. This knife also has steel liners and an adjustable CIVIVI pivot.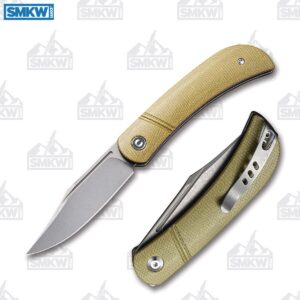 When you open the Appalachian Drifter all the way up, it's 6.8″ and it weighs about 2.5oz. It's a comfortable, useful EDC at a decent price point.
CIVIVI Appalachian Drifter Details
3″ CPM-S35VN Clip Point Blade
Gray Stonewash Finish
.1″ Thick
Slip Joint with Opener Tab/Long Pull
Double Detente
Micarta Handles with Steel Liners
Tip-up Removable Pocket Clip
3.875″ Closed
6.8″ Overall
All-in-all, I am incredibly disappointed – that this wasn't another Fast and Furious movie. I really like those movies. The CIVIVI Appalachian Drifter, however, is a pretty nice consolation prize. You can get any of the three colors of this knife for right around $84 each, and if you're interested in learning more or just want to find them online, click any of the links in this article or the button below.