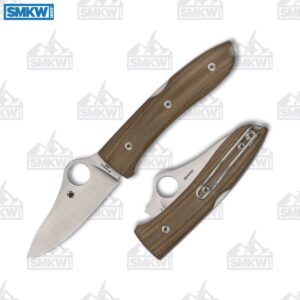 The Spyderco SpyOpera was designed by Italian custom knifemaker "Max" and produced by LionSteel. It's a classically utilitarian folder that is both understated and next level all at the same time. In other words, the Spyderco SpyOpera screams LionSteel Italian, but in a glorious, useful way.
The Spyderco SpyOpera features a 2.9″ M390 blade with a satin finish. It's a hearty .12″ thick, and, of course, features Spyderco's trademark round hole. The back of the blade is labeled with the LionSteel mark, but it's definitely not overdone.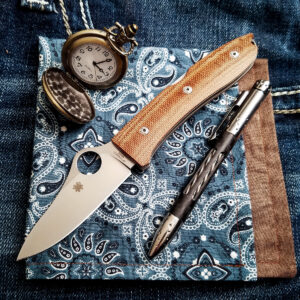 This lock back features some superbly contoured brown Micarta handles secured by well appointed screws (almost decorative in and of themselves). The liners are skeletonized titanium with a stainless steel backspacer and a right-side, tip-up, wire pocket clip rounds out the handle quite nicely.
Fully open, the Spyderco SpyOpera is 6.9″ and weighs in at 2.7oz.  And, in true LionSteel fashion, the spines of the blade, lock bar, and backspacer are all meticulously crowned.
Spyderco SpyOpera Details
2.9″ M390 blade with a satin finish.
.12″ Thick
Manual Opener
Spyderco Round Hole
Lock back
Brown Micarta Handles with Skeletonized Titanium Liners
Stainless Steel Backspacer
Crowned Blade, Lock, and Backspacer Spines
Tip-up Right-Side Carry Wire Pocket Clip
4″ Closed.
6.9″ Overall
2.7oz
Made in Italy by LionSteel
The Spyderco SpyOpera is a gorgeous rendition by LionSteel. It's premium materials are reflected in the price. If you're interested in one of these Italian-made beauties, simply click any link in this article or the button below.


All images courtesy of Smoky Mountain Knife Works – smkw.com.