The Alox series (for those who aren't familiar) are a series of Victorinox knives that come out every year. Since the collection was started back in 2015, it's still a relatively young series. These knives are perfect for collectors because the colors and markings change each year, but the same patterns are always offered. The handles are designed to be unique from any other series Victorinox makes and frankly, I think they look great. This year it's Olive Green Alox.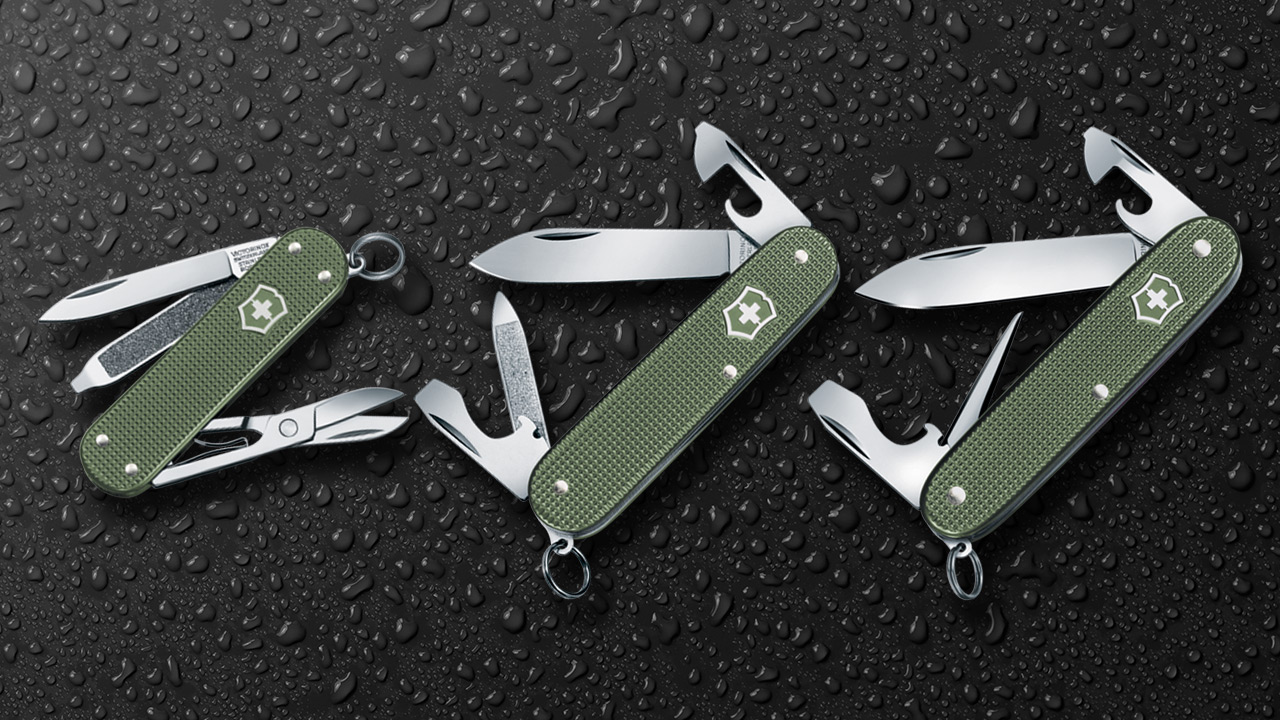 The big deal about the 2017 Alox series is the color. Since the series is only three years old there's only been navy blue, lavender purple, and now olive green. These knives have been selling pretty well due to the simple fact of going from purple to green (not that there's anything wrong with purple, it's just not my thing). Victorinox specially marks the back of each handle with the corresponding year. This makes them easy to display and remember (just in case you forget what year your knives are). Since this series is so young, it's a great time to start collecting these Olive Green Alox knives because you're only missing two!
Victorinox makes the Olive Green Alox handles out of punched aluminum. Victorinox engraves, colors, and then anodizes each handle. The Elexal process uses anodic oxidation to create an additional layer on the handle that protects against damage and corrosion. These knives resist wear incredibly well, and that ensures your collection will stay in great condition.
There are three different patterns that make up the Alox series. The Olive Green Alox Pioneer, Cadet, and Classic SD feature different functions. The Cadet and Pioneer share many of the same features, but the Cadet has a nail file instead of a reamer/punch. The Classic SD features a smaller blade with a nail file and a pair of scissors. These three basic designs are the foundation of Victorinox and each pattern commands a huge following of fans. Victorinox couldn't have chosen better candidates to represent their yearly limited edition series.
The Olive Green Alox Series Details
2 3/4″ Spear point blade
3 5/8″ closed length
2 1/8″ Spear point blade
3 1/4″ closed
1 1/2″ pen blade
2 1/4″ closed
Aluminum handles
Inox stainless steel blades
date stamped limited edition
Made in Switzerland
These knives are an incredible series to pick up if you enjoy collecting any sort of cutlery. The Olive Green Alox series is a simple design that is built to last (perfect for those who want to tuck them away with no maintenance). The price point is good enough that even younger enthusiasts can easily collect them. I found thus series at Smoky Mountain Knife Works (smkw.com). They start out at $35.99 for the Classic SD and reach their high end at $51.99 for the Pioneer series. Simply click the link below to check them all out.