When you think of Benchmade, bushcraft isn't what immediately comes to mind, but the Benchmade Bushcraft Model 162 serves as an excellent survival and field knife for that very thing – bushcrafting.  Designer Shane Sibert created the model 162 as a pure survival knife, and it's really gained some traction among enthusiasts.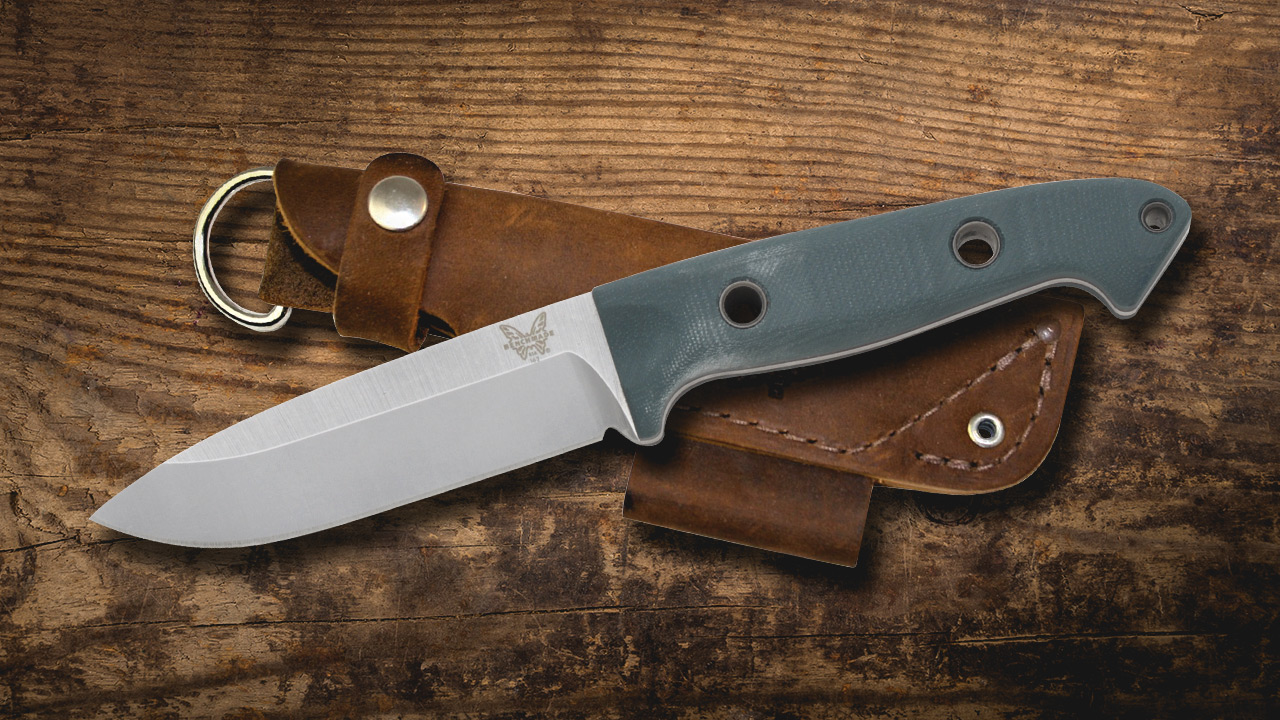 This 9.15″ fixed blade knife features a full tang, CPM-S30VN steel design. The blade itself is 4.4″ long and nearly 3/16″ thick. The handles of the model 162 are green over red G10 and provide excellent grip. To say the Bencmade Bushcraft Model 162 is solid is an understatement.
This knife is small enough to carry on your side in its leather sheath and perform delicate hand work, but strong enough to handle heavy labor tasks like batoning wood for kindling.  As one user says, "I bought this knife to keep in an emergency pack, but I also you it almost daily… use it to get the kindling ready for the fire. It batons wood like a champ. and the blade is super sharp. At almost 3/16 thick, it's awesome at making feather sticks and the spine works very well for making fine fibers and striking a ferro rod."
At 7.7oz (just under half a pound), this isn't the lightest knife in the world, but what good bushcrafting knife is?  We think it's balanced well and won't wear you out while you're in the field. Another user says, the Benchmade Bushcraft model 162 is "big enough for tough chores and nimble enough for detail work. I use it to field dress deer. It holds a super sharp edge."

The Benchmade Bushcraft Model 162 Details
Designer: Shane Sibert
Action: Fixed Blade
Steel: CPM-S30V (58-60 HRC)
Blade Length: 4.40″ (11.18cm)
Thickness: 0.164″ (4.17mm)
Overall Length: 9.15″ (23.24cm)
Handle Thickness: 0.92″ (23.37mm)
Weight: 7.72oz. (218.86g)
Sheath Weight: 1.86oz. (52.73g)
Green and red contoured G10 handle
The Benchmade Bushcraft Model 162 retails for $185.75 at Smoky Mountain Knife Works – smkw.com. If you click the button below, you can find it in their online store.