If you are a frequent reader of Knife Newsroom, you may have heard me ramble about backpacking in the Smoky Mountains. Anyone who sees me at an event can easily distinguish me by my daypack with my knife right strapped right across my chest. If you read the headline, I can assume you already know that I carry an ESEE 4. I just wanted to take a moment and give this knife some credit. It has served me faithfully for years.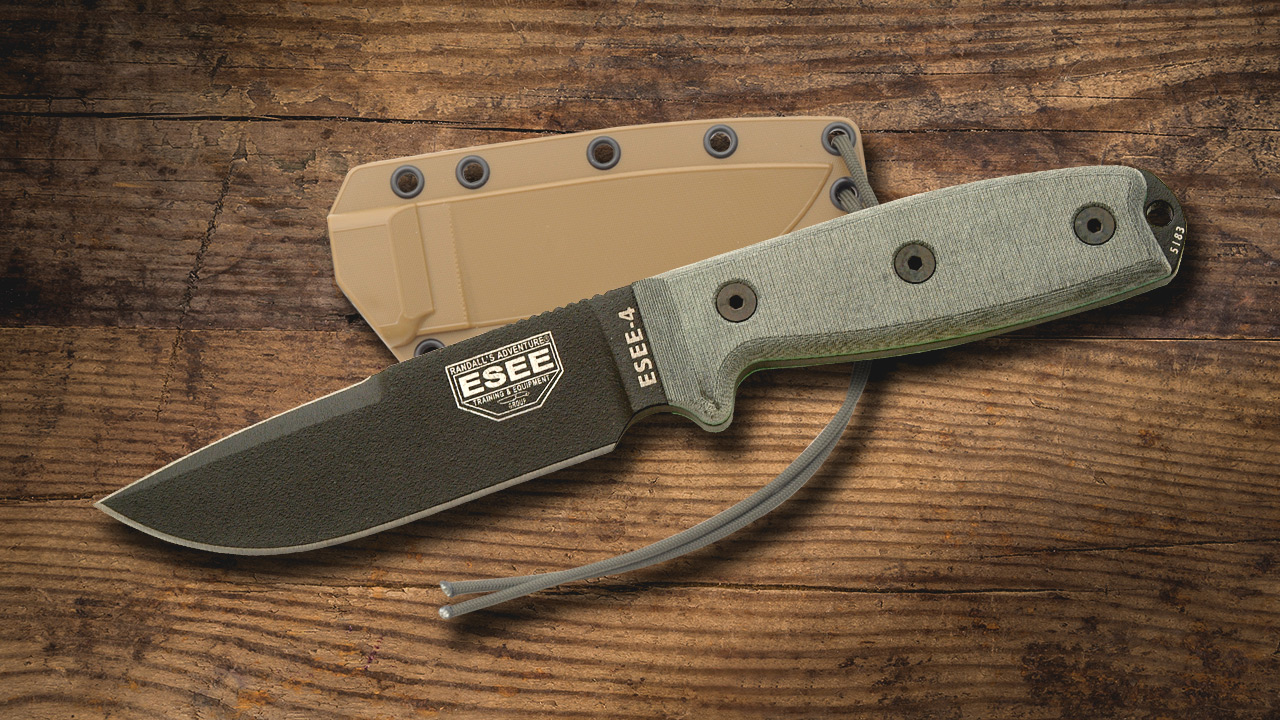 The first question I usually get is why an ESEE 4? The answer is actually quite simple. It's minimalist yet has everything I need. The ESEE 4 doesn't have a ton of features, but everything it does feature is absolutely crucial.
The blade is what won it for me when I was choosing an outdoors knife. It has a 4 1/2″ blade made of 1095 carbon steel. The 1095 used by ESEE was an important addition to the design. I needed a steel that could easily baton wood, make tools, or filet wild game, without losing its edge.  1095 is a durable steel that accomplishes my tasks and stays sharp enough to slice through paper at the end of an excursion.
The drawback to 1095 is that it can rust without the appropriate care and maintenance of the knife. ESEE has virtually solved this drawback by coating their blades using an epoxy powder coating. I'm not saying it makes the blade carefree, but it certainly eases the task of caring for a carbon blade you use outdoors.
The ESEE 4 is made in a few different blade styles. Some ESEE's have a standard plain edge blade. Some have partial serrations, and some come with a partially sharpened top swedge (creating a double-edged point).
Personally, I chose the model with a sharpened top swedge. My reasoning is that I can use the large main blade for intense tasks like batoning wood, and the secondary edge always stays sharp for smaller finesse tasks. I can certainly see the merit in serrations, but for my backpacking they just weren't a necessity.
ESEE makes the ESEE 4 available in G10 or Linen Micarta that is triple riveted to a full tang. G10 and Linen Micarta are both solid choices for handle material, because they're lightweight and resilient to outdoor conditions (cold, wet, muddy, etc.).
You can get the ESEE 4 in a few different colors of G10 or Linen Micarta, so it's pretty easy to find one that suits you. The triple rivets make the ESEE 4 very tolerant to being dropped or banged on. I have personally used mine to beat tent stakes into the ground, and I have yet to have an issue with the handles' integrity. The handle also features a unique serial number for identification and a lanyard hole.
The thing that stands out about my knife when you come across me at an event, is how its uniquely mounted to my MOLLE chest strap. The ESEE 4 comes with a tough little molded polymer sheath with an optional belt clip and a small section of paracord. The paracord is what gave me the inspiration to mount my knife to my pack's MOLLE strap.
The polymer that ESEE uses is very lightweight and extremely durable. My poor sheath has been beat on and heavily used, and I have yet to see any issues with its function or integrity.
The ESEE 4 Details
1095 Carbon steel blade
Full tang construction
Epoxy Powder coat coating
G10 or Linen Micarta Handles
Molded polymer sheath
4 1/2″ blade length
9″ overall length
Made in the U.S.A.
I honestly don't have a real complaint about the ESEE 4. It's very apparent that Jeff Randall drew from his years of survival experience to create a great knife. You'd be hard pressed to find a better knife in the same price range.  I picked mine up at Smoky Mountain Knife Works (smkw.com) for $86.95, but with the different blade setups, the price will drift up or down a few bucks. If you're considering this knife, go for it.