Breaking News – Sevierville, TN – Smoky Mountain Knife Works releases their new exclusive Benchmade 940DLC-1802. This announcement comes just months after SHOT Show where Benchmade awarded SMKW with Premium Plus Dealer of the Year. This is the second year in a row SMKW has received this honor. To celebrate their second year as king of the castle, SMKW has commissioned one of the most attractive Osborne 940's to date.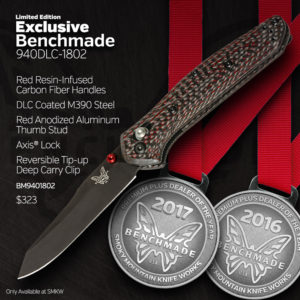 This 940 has a combination of desirable features that make it stand out from others in the Osborne family. The red resin-infused carbon fiber handles not only look great, but also feature a new contour that fits well in the hand.
The carbon fiber is both lightweight and durable which makes it a fantastic choice for EDC, while its modern and sleek appearance makes it quite the show piece. Every detail is dressed up from the bright red thumb studs to the gray PVD coated barrel spacers, but that doesn't mean it cant get down to business.
When considering form and function, the M390 blade is the best of both worlds. Benchmade tells us, "M390 is a super-performance blade steel with exceptional cutting ability and wear resistance."
If you want this knife for work tasks, M390 can certainly get the job done. But, this is far more than just a work blade, it looks great on the knife too. The blade features a black DLC coating with red anodized aluminum thumb studs that look incredible paired with the red resin-infused handles. It's a matching appearance that will get you attention every time you pull this knife out.
The blade is locked open using Benchmade's award winning AXIS lock system. Benchmade says, "in testing, the lock supported loads in excess of 200 lbs. without damage." – an impressive feat for such a compact and smooth operating locking mechanism.
Benchmade 940DLC-1802 Details:
SMKW exclusive only available at Smoky Mountain Knife Works
M390 blade steel
Reverse tanto blade style
Protective black DLC blade coating
Red anodized aluminum ambidextrous thumb studs
AXIS locking mechanism
Red resin-infused carbon fiber handle
Gray PVD coated barrel spacers
Reversible tip-up DLC coated deep-carry pocket clip
3.4″ Blade length
0.115″ Blade thickness
7.87″ Open length
4.47″ Closed length
2.90oz Total weight
The SMKW exclusive Benchmade 940DLC-1802 is certainly one of the most attractive Osborne knives on the market. Like most exclusives, these knives will most likely be available in limited quantities. If you are like me and love what you see, you better act fast. You can find these exclusive knives at SMKW.com by clicking any of the links in this article or by clicking the button below.