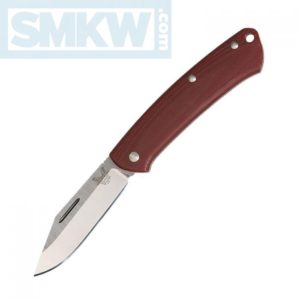 Whether you're a Benchmade fan or simply a fan of nice knives, you can't go wrong with the Benchmade Proper. It's Benchmade's modern take on a classic gentleman folder.  It has the same light weight, the same thin body, and the same nail pull opening mechanism of a traditional folder, but Benchmade added a ton of added durability to the mix.
Featuring a 2.8" CPM-S30V clip point model or a sheepsfoot model with a satin finish, the Benchmade Proper is a fantastic knife that will take and hold an excellent edge. At .09″ thickness, the thin blade makes an excellent slicer. This slipjoint folder has a nail pull opening mechanism. The half-stops add a significant amount of safety to this super sharp knife and help prevent the blade from accidentally closing on your fingers.
With a very thin body of only 0.4 inches wide, and a closed length of 3.85 inches the Proper is an easy carry that practically disappears in your pocket.  Additionally, the red G-10 handles are colorful enough to stand out in the field, and rugged enough to endure a variety of tasks.  The overall feel and build of this knife is as outstanding as you expect from any Benchmade product.
Benchmade Proper Details
CPM-S30V, Satin Finished
2.8" Clip Point or Sheepsfoot
Slipjoint Folder
Nail Nick Opening
Red G-10 Handle
Lanyard Hole
3.85" Closed
6.69" Overall
Made in the USA
The Benchmade Proper is a perfect knife to add to any knife collection. If you're interested in this knife, click any link in the article or simply click the button below.


All images courtesy of Smoky Mountain Knife Works – smkw.com.