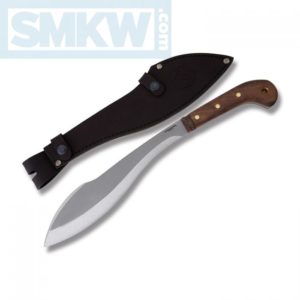 Designed by Joe Flowers, the Condor Amalgam machete is an amazing beast of a knife. It's part Parang and part Kukri, hence the name, Amalgam. It's everything you want in a machete smooshed into one beautifully designed and incredibly useful tool.
What's so awesome about the Amalgam machete? Well it has an incredibly weight-forward balance. This full tang, 11.72″ 1075 high carbon steel blade has a blasted satin finish and a skinny "waist" near the choil that's typical for a Parang, combined with the wide, recurved chopping blade of a Kukri. This unique profile allows you to chop through brush, and branches as well as do fine detail work once you choke up on the handle. It's truly designed to be an all-purpose, hard use tool.
With its extremely stout 4.5mm thick blade, the unsharpened distal (or false) edge keeps the weight down to 24 ounces. The large Condor convex edge makes it easy to find the bevel for easier sharpening. And, well, it also makes it look cool.
The handles are exquisite walnut secured with triple brass rivets, and it has a wire wrap to make the handles look that much more beautiful. Condor wisely recessed the wire to minimize hand fatigue, which is always nice.
The Amalgam comes with a hand crafted, welted leather sheath that has a belt attachment. It also has a lanyard hole.
Condor Amalgam Machete Details
1075 High Carbon Steel
11.72" Blasted Satin Finish
Walnut Handle
Triple Brass Rivets
Recessed Wire Wrap
Hand Crafted Leather Sheath
0.18" (4.5 mm) Blade Thickness
18.31" Overall
24 ounces
Made in El Salvador
If you're in the market for a new outdoor tool, or even if you just think it looks cool, you can't go wrong with the Condor Amalgam machete. If you're interested in this knife, click any link in the article or simply click the button below.
All images courtesy of Smoky Mountain Knife Works – smkw.com.