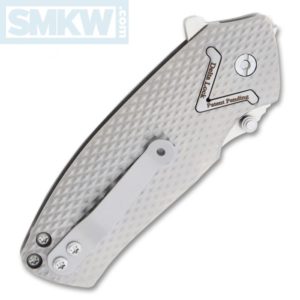 Do you like your flipper with a frame lock or liner lock? If a knife has both a frame lock and a liner lock, is the debate between the two settled once and for all? Check out the GTI Delta Lock. It's a hearty, hard use flipper with a patent pending lock that provides four points of contact – both with the liner and the frame.  This knife is like having both a frame lock and a liner lock, which in turn potentially turns your flipper into a folding fixed blade.
Former Army Ranger Justin Gingrich of Gingrich Tactical Innovations joined forces with Army veteran and former Gerber designer and engineer, Jeff Freeman of Freeman Knives to make the GTI Delta Lock. This USA-made folder has four points of contact providing an incredibly secure lock up.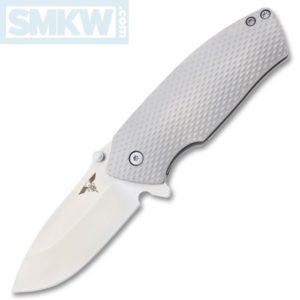 How it works is this. The liner is one piece. On the tang of the blade, there are two flats and two angles. This forms a V on the blade tang. When the knife is open, the V comes down and inserts into both the handle and the liner, so the lock secures in four different points, which is like a quintuple fail-safe. Once the lock engages, there is no movement in any direction. And, if that wasn't enough, the Delta Lock serves a dual purpose. In the closed position, one of the angles protrudes slightly beyond the edge of the knife to serve as a glass breaker.
The 3.25" BD1 drop point opens with either a flipper or thumb stud. If you like getting and keeping your knives shaving sharp, BD1 steel takes and notoriously great edge. The titanium handle is machined for a great grip and houses a tip-up pocket clip.
GTI Delta Lock Details
CTS-BD1, Satin Finish
3.25" Drop Point
Titanium Handle
Flipper or Thumb Stud Opener
Delta Lock
Tip-Up Pocket Clip
4.75" Closed
8" Overall
Made in the USA
If you're looking for a heavy duty USA made folder with an incredibly secure lock up, the GTI Delta Lock just might be the perfect knife for you. To get this knife, click any link in the article or simply click the button below.


All images courtesy of Smoky Mountain Knife Works – smkw.com.