If you haven't seen the Boker Plus Frazetta series, you're missing out. These fun knives feature iconic artwork from Frank Frazetta on the handles. They have a superior fit and finish, and the action is just incredible.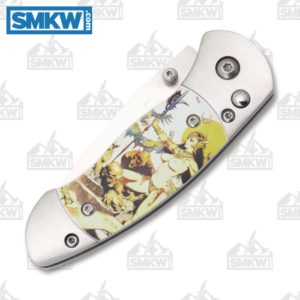 Whether it's on the cover art for a Molly Hatchet album, or the notable 1971 painting of Conan the Destroyer, chances are you've seen late artist Frank Frazetta's work at some point in your life. After countless movie posters, comics, and book covers, Frank secured himself as one of the most notable artists of his time. The Boker Franzetta series feature the Ghoul Queen as seen on the cover of National Lampoon's "Strange Beliefs" issue from August 1973. This iconic artwork decorates the handles of the Boker Plus Gordito, Exskelibur, and the traditional Lockback. Let's take a look at these beauties.
Boker Plus Frazetta Gordito
The Boker Plus Frazetta Gordito might be our favorite knife in this series. The fit and finish is absolutely spectacular with smooth edges and a great hand feel. The action is equally amazing. Boker tells us, "Refined, compact, handy, useful – if these are the key features of a gentlemen's knife, then we have without a doubt found it here." Milled titanium liners keep the weight down to about 5 ounces. The beautifully brushed titanium bolsters are a great accent for the artwork on the aluminum handles.
The 2.4″ satin finished 440C stainless steel blade snaps open quickly and smoothly with ambidextrous thumb studs. Lock up is excellent with no wiggle in any direction. Unlocking the blade is convenient with a simple push button lock. Finally, it has a titanium tip-up up pocket clip.
Boker Plus Frazetta Gordito Details
440C Stainless Steel, Satin Finish
2.4″ Drop Point Blade
Ambidextrous Thumb Studs
Push Button Lock
Aluminum Handle
Tip-up Pocket Clip
5.1 oz.
3.37″ Closed
5.9″ Overall


Boker Plus Frazetta Exskelibur I
Designed by Mike Skellern, the Exskeliber I is smooth, sleek and lightweight. The Boker Plus Frazetta Exskelibur I is all that and it features an umimpeded view of the Ghoul Queen artwork on the slim aluminum handle.
This medium sized framelock has a satin finished 3.5″ 440C drop point blade. It opens with a front flipper and has a smooth, controlled action. Once open, the flipper doubles as a thumb ramp for a secure grip.
The Exskeliber weights only 2.3 ounces and is about 4.75″ closed and, for a knife of this size, it practically disappears in your pocket. Finally, it comes with a reversible right carry pocket clip.
Boker Plus Frazetta Exskelibur I Details
440C Stainless Steel, Satin Finish
3.5″ Drop Point Blade
Front Flipper Opener
Framelock
Aluminum Handle
Reversible Tip-Up/Down Pocket Clip
2.3 oz.
4.75″ Closed
8.1″ Overall


Boker Plus Frazetta Lockback
Who doesn't want a traditional lockback with vintage artwork? Especially if that traditional lockback has a superior fit and finish and a smooth easy opening. The Boker Plus Frazetta Lockback has composite handles adorned with the Ghoul Queen artwork. This knife feels hefty and solid in hand. It features a 440C stainless steel clip point blade that opens with a nail nick and lock up is solid with the back lock.
Boker Plus Lockback Details
440C Stainless Steel, Satin Finish
3.7″ Clip Point Blade
Lockback
Aluminum Handle
5.6 oz.
4.62″ Closed
8.3″ Overall

The knives in the Boker Plus Frazetta series make an outstanding and interesting addition to any knife collection. If you're interested in these knives, click any link in the article or simply click the button below.


All images courtesy of Smoky Mountain Knife Works – smkw.com.