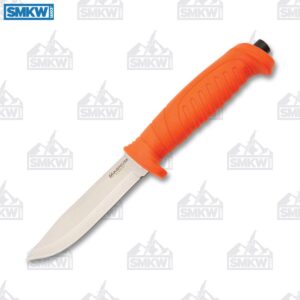 There's a lot of these great little inexpensive Scandinavian Sami style knives on the market. We've covered Morakniv and Marttiini quite a bit, and we've even tracked the new Condor Bushglider. This is most definitely a popular style of camp knife, but the Boker Magnum Knivgar isn't your standard Scandinavian Sami. It's got a surprise in the handle that will come in handy.
The Boker Magnum Knivgar features a 4″ unbreakable 420A stainless steel drop point blade with a satin finish. It's .125″ thick and sharp as hell right out of the box. That's not groundbreaking.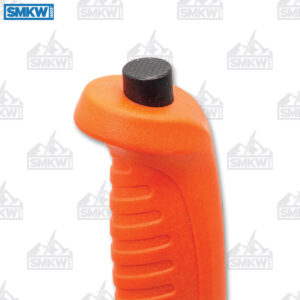 The handle is "indestructible" polymer, and that's not groundbreaking either. But, the Knivgar has a cylindrical, cleated hammer built into the pommel of the knife. According to Boker, "The indestructible signal-colored handle is inseparably connected to the blade by injection molding, as is the practical hammer and chisel surface on the pommel."
What does this mean for your camp knife? It means you have a virtually indestructible camp knife with a hammer built right into it, and that greatly expands the tasks you can handle with a very light camp knife.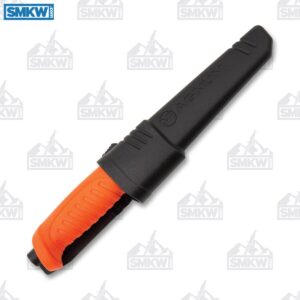 The Knivgar is 8.9″ overall and weighs in at a miniscule 3.6oz. With the simple polymer belt sheath, that means you're not even going to notice this knife on your hip or in your pack.
Boker Magnum Knivgar Details
4″ unbreakable 420A stainless steel Drop Point
Satin Finish
.125″ Thick
Polymer Handle
Hammer Pommel Tool
8.9″ Overall
Polymer Sheath
Carve a spoon or hammer in a tent stake, all with a knife you can't even feel on your hip (or in your wallet). The Boker Magnum Knivgar retails for under $11 and is available with a black or orange handle. If you're looking for one, simply click any link in this article or the button below.


All images courtesy of Smoky Mountain Knife Works – smkw.com.