If you're looking for an American-made, no-nonsense traditional pocket knife, it doesn't get much better than the Case American Workman Seahorse Whittler. This small, but mighty pattern tends to sell out more quickly than other patterns, so don't wait around on this one. If you want it, get it now.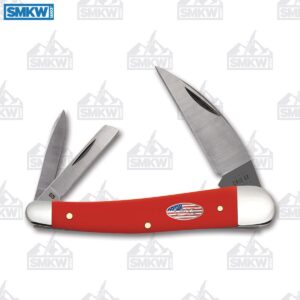 The Case American Workman Seahorse Whittler is a three-blade pattern with red synthetic handles and high-polish nickel silver bolsters. It has a Case Stars and Stripes shield that's nickel silver with red, white and blue injection to create a US flag background behind the Case mark.
There are three blades and two springs on the Seahorse Whittler, and all three of them are Tru-sharp steel with what Case calls its "As Ground" finish (looks like heavy brushed satin to us).  The knife's main blade is a thick Wharncliffe blade that is supported by both back springs. At the other end of the knife, you'll find a small coping blade and a small pen blade, each resting on its own back spring.
When all three blades of are partially open, this knife really does resemble a seahorse, especially when you put the hande in the vertical position with the Wharncliffe a the top. It's 4″ closed, weighs 2.6oz, and made in the USA.
Case American Workman Seahorse Whittler Details
Tru-Sharp Steel blades with an "As Ground" Finish
Split Back Whitter with a Wharncliffe Main and Small Coping and Pen Blades
Red Synthetic Handles
Brass Pins and Liners
Nickel Silver Bolsters
Nickel Silver and Color Case Stars and Stripes Shield
4″ Closed
Weighs 2.6oz.
Made in the USA
We love this pattern. It rides well in the pocket, and we really like the configuration on this Case American Workman Seahorse Whittler. If you're interested in getting one of these in hand, simply click any link in the article or the button below.


All images courtesy of Smoky Mountain Knife Works – smkw.com