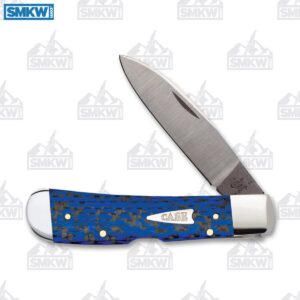 Carbon Fiber woven with G-10 fiber seems to be among the more popular modern handle materials we've seen on traditional knives over the last few years. From Case, we've seen Red and Black and Black and White, and for 2021, they've brought out Case Black and Blue Fiber Weave. It's a new series of familiar patterns, all with modern handle materials.
First, let's talk fiber weave. In this case, it's Carbon Fiber and G-10 woven together to produce a solid handle. As we understand it, carbon fiber/G-10 weave is much easier to work with than standard carbon fiber. It's also a little prettier because you can introduce bright colors that are harder to find in carbon fiber but easier to find in G-10.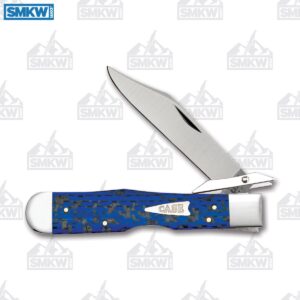 This new series features seven tried and true Case patterns, and they're a little different than what was offered in the last CF/G-10 weave series. This time, Case included the Tribal Lock, Medium Stockman, Muskrat, Cheetah, Canoe, Sowbelly Stockman and Trapper patterns.
All of the patterns in the series feature Tru-Sharp Surgical steel. That's not surprising, the vast majority of Case's releases feature this steel. What is unusual is the finish. Instead of their standard high-polish, mirror finish, Case has produced this entire series with a satin finish.
The CF/G-10 handles are almost a bright royal blue mixed with a deep gray (not really black), and because this is a weave, every handle is a little different. The handles are cropped by plain, high-polish nickel-silver bolsters, and each knife carries a nickel-silver Case Arrowhead shield. All of this is mounted on brass liners with brass pins.
You can get into this series for as little as $65, and the series maxes out with the locking Cheetah at $85. The smallest knife in the series is the Muskrat, and again, the largest knife is the Cheetah.
Click any image below to launch a slide show of larger images.
Case Black and Blue Fiber Weave Series Details
Tru-Sharp Surgical Steel Blades
Satin Finish
Black and Blue Carbon Fiber and G-10 Fiber Weave Handles
Nickel-Silver Bolsters
Nickel-Silver Case Arrowhead Shield
Brass Pins and Liners
Made in the USA
We think this Case Black and Blue Fiber Weave series beats the Black and White series hands down, and it may even edge out the Red and Black series too. If you'd like to learn more about the individual patterns in this series, simply click any link in this article or the button below.


All images courtesy of Smoky Mountain Knife Works – smkw.com.