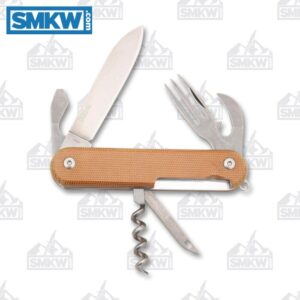 Designed by Lucas Burnley and made by Mercury, the MKM Malga 6 is a multi-tool with upgraded blade steel, modern construction, and durable handle materials. It literally has all the things you want and need in life. Okay, maybe that's a bit of an exaggeration. That pretty cheerleader you used to know still might not have given you a second look just because you had a Malga 6, but that's fine because honestly, she was hateful anyway.
The MKM Malga 6 is like Burnley looked at a SAK, upgraded everything, and changed it to do all the things we all want. The blade of this knife is a 2.64" stonewashed M390 pen blade. It has a blade thickness of about 0.1", and it's hardened to 58-60HRC. In case you're curious, Bohler M390 is a stainless steel with outstanding corrosion resistance combined with good edge retention, making it an excellent upgrade to the old tried and true SAK.
It's a six-function multitool with a can opener, a cap lifter with a screwdriver tip, a reamer, a corkscrew, and a fork. Now, all those tools are stonewashed 420 stainless steel and we love to see it. It not only helps keep the price reasonable, but it also keeps the tools from being too brittle.
Although the pivots are pinned on this slipjoint, the micarta handles are removeable. That makes mods relatively easy, and if any of you modders decide to throw on some Dichrolam handle please give us a tag with pictures. I'm unabashedly obsessed with Dichrolam. There are two different handle scales currently available on the Malga 6 – OD Green Canvas Micarta and Natural Canvas Micarta. Mercury builds a fine knife and this one is no exception. The fit and finish is outstanding, and the snap is just about perfect. It's 3.94" closed and weighs 2.79 ounces.
MKM Malga 6 Details
M390, Stonewash Finished
2.64" Pen Blade
0.1" Blade Thickness
58-60 HRC
Slipjoint Multitool with Pinned Washer Pivot
Removable Micarta Handles
420 Tools, Stonewash Finished
Cap Lifter, Screwdriver Tip
Can Opener
Reamer
Corkscrew
Fork
2.79oz.
4.58" Closed
Made in Maniago, Italy
The Burnley designed MKM Malga 6 is a great looking, incredibly useful multiuse pocketknife with upgraded steel and removeable micarta handles. You can pick one up for about $110. If you're interested in this knife, click any link in the article or simply click the button below.


All images courtesy of Smoky Mountain Knife Works – smkw.com.