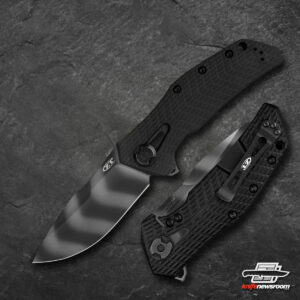 For the first time ever, Zero Tolerance is using black-oxide Blackwash finish for its classic tiger striping on the new ZT 0308BLKTS. This murdered out version of the 0308 is stealthy, and the new blade finish not only looks great, it will protect the 20CV blade better than ever. Let's hit all the highlights of this 2021 ZT offering.
The ZT 0308BLKTS features a beefy 3.75″ harpoon-style drop point blade with military-style black-oxide BlackWash finish with classic ZT tiger stripes. It's a full .15″ thick and has some very nice jimping on the spine where your thumb should land while cutting.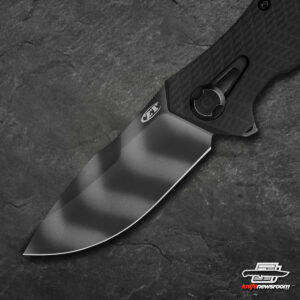 This is a manual flipper with the KVT ball bearing pivot system. If you don't remember the article we did on the original ZT 0308 or you don't have one, the pivot on this thing is very different. The solid pivot has custom nut that enables in-the-field adjustment with a simple 1/2-inch wrench. Don't like how your knife is opening? Adjust the tension on the fly with a wrench without taking the knife apart.
Every piece of hardware on this titanium frame lock is black or blackwash finish. That includes the titanium back handle and the stealth black, machined G-10 front handle. The ambidextrous tip-up pocket clip, screws and pivot didn't escape this treatment either.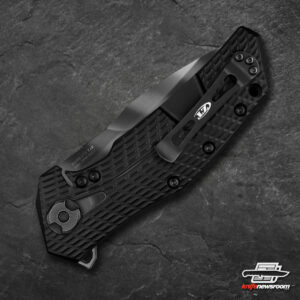 The ZT 0308BLKTS is truly part of the beefy lineup that ZT built its early reputation on. It's 5.2″ closed, 8.9″ overall, and weighs a 6.9oz. You're not going to forget it's in your pocket or your hand.
ZT 0308BLKTS Details
3.75″ Harpoon-Style Drop Point Blade
Black-Oxide BlackWash Finish with classic ZT Tiger Stripes
.15″ Thick
Manual Flipper
KVT Ball Bearing Pivot System
Adjustable Solid Pivot
Framelock
Titanium Back Handle
G-10 Front Handle
Ambidextrous Tip-up Pocket Clip
All-black Hardware
Lanyard Hole
5.2″ Closed
8.9″ Overall
Weighs 6.9oz.
Made in the USA
The USA-made ZT 0308BLKTS is a nice addition to the Tiger Stripe family at ZT. We'll have to wait and see what kind of a difference black-oxide Blackwash finish makes, but it fantastic. This knife reminds of all those great early-model ZT knives. It's truly a beast. If you're interested in getting one of these, simply click any link in the article or the button below.