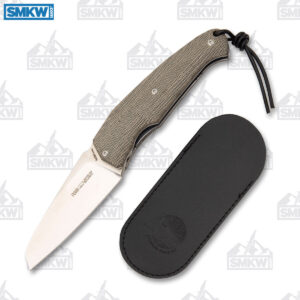 The Viper Novis is a simple, straightforward folder with incredible steel and Italian craftsmanship. From the mind of designer, Fabrizio Silvestrelli, this mid-size EDC is everything you need without the frills. It's modern. It's elegant, and we like it. A lot.
The Viper Novis features a 3″ Bohler M390 stainless steel modified Wharncliffe blade with a satin finish. It's .15″ thick and like most Viper knives, it has a smooth crowned spine. As Viper tells us, the blade shape has a "straight line and a strong tip, and thanks to the Böhler M390 steel, [it] has an extraordinary cutting capacity and long life."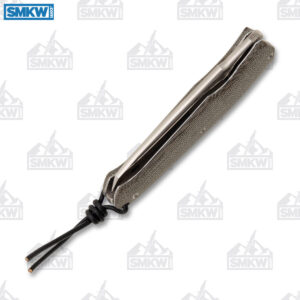 This is a manual front flipper. In the closed position, the flipper almost disappears. In fact, when you first look at the Viper Novis, you might not intuitively know how it opens. Like all front flippers, it takes some getting used to, but once you've got it down, it's smooth as silk.
The Novis is a liner lock with steel liners and several variations in handle materials. For the purpose of this article, we're working with the OD Green canvas micarta version. We love its shape and grippy feel in hand, and we love that they've already tied a lanyard cord into the lanyard hole. But, we can already here our readers asking, "Where's the pocket clip?" Well, there isn't one. This knife comes with a black leather slip sheath.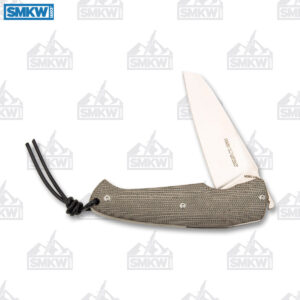 The Novis is just 4″ closed and rides easily in the slip in your pocket. It's 7″ overall and weighs in at about 4oz. Our source has the Novis available in the green Micarta you see in this article, as well as natural Micarta and Carob Fiber.
Viper Novis Details
3″ Bohler M390 Modified Wharncliffe Blade
Satin finish
.15″ thick
Crowned Spine
Front Flipper
Thrust Bearings
Liner Lock
Steel Liners
Micarta Handles
Lanyard Hole
Slip Sheath
4″ Closed
7″ Overall
Weighs 4.04oz.
Made in Italy
The Viper Novis is another Italian-made beauty from the mind of Fabrizio Silvestrelli, and we've really enjoyed his work. It's always elegant, crisp, clean, and so very Italian. The Novis ranges in price from about $133-$157 depending on handle material. If you're interested in getting one of these or learning more, simply click any link in this article or the button below.


All images courtesy of Smoky Mountain Knife Works – smkw.com.