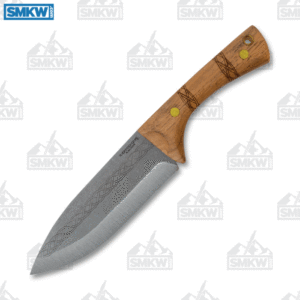 We really wanted to write about how the Condor Pictus was the only survival tool you need to survive all alone in the woods. The Editor, who is once again compulsively watching Alone, vehemently disagreed. He had a whole list of reasons why this isn't the only tool you need to survive in the woods. We defeated his argument by concluding, "This is the only tool you need to survive in the woods if you're the Morrighan and have magic powers." Argue with that, Editor-in-Chief-Logicpants.
Above and beyond the incredibly pretty Celtic knot eye candy on the blade, the handles, and on the sheath, the Condor Tool & Knife Pictus is a fantastic and versatile fixed blade knife.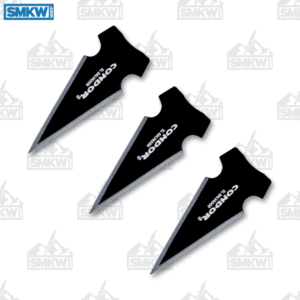 It has a 6.11" 1095 drop point with a full tang and a 1/8" blade thickness. There's enough flex and blade width to make it function as both a slicer and as a chopper. The convex grind, the full tang, and the notoriously durable blade steel give you a knife that's incredibly rugged and easily sharpened.
The American Hickory handles are lined with red liners and are secured with brass pins. It's been contoured for a comfortable grip in any number of positions and comes with a lanyard tube.
The Pictus has a gorgeous welted leather sheath with a ferro rod loop and a dangler attachment. Tucked inside the front snap pocket is what truly elevates this knife to The Only Survival Tool You Need (if you have magic powers): three black coated arrow heads. With a simple addition of a stick – finely honed with the knife – you can shoot predators and prey from a distance. Then you can cook and clean your prey with your knife, while the dangler sheath politely stays out of your way.
Condor Tool & Knife Pictus Details
1095 Carbon Steel, Natural Finish
1/8" Blade Thickness
6.11" Drop Point Blade
Full Tang
American Hickory Handles
Lanyard Tube
Welted Leather Sheath
14.11 oz.
11" Overall
(3) Arrowheads
Made in El Salvador
The Condor Tool & Knife Pictus is beautiful, durable, and functional. It might be the only knife you need around almost any camp. Click any link in this article or simply click the button below to get yours, even if you don't have magic powers like the Morrighan.


All images courtesy of Smoky Mountain Knife Works – smkw.com.