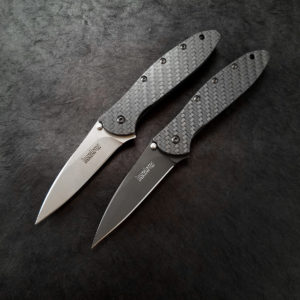 We're not positive, but we're pretty sure even the Lord loves a Leek. One of the coolest things Zero Tolerance came out with last year was the glow in the dark carbon fiber handle scales. With the Kershaw Leek 1660GLCF, you get the infinitely loveable Leek combined with all the neat factor of the ZT glow in the dark handles. It's just an all-around winning combination.
The Kershaw Leek 1660GL has a 3" CPM-154 modified Wharncliffe with either a stonewash finish or a black coating. As always, it's a SpeedSafe assisted opening flipper with ambidextrous thumb studs.
The carbon fiber handle scales on this linerlock glow in the dark. As with all things glow in the dark, they must be charged by taking them out of the box and exposing them to light. It has a secondary safety slide to ensure your knife won't accidentally open in your pocket, a reversible pocket clip, and a lanyard hole. It's 4" closed and weighs about 2.31 ounces.
Kershaw Leek 1660GLCF Details
CPM-154, Stonewash or Black Coated
3" Modified Wharncliffe
0.09" Blade Thickness
SpeedSafe Assisted Opening
Flipper or Ambidextrous Thumb Studs
Linerlock with Secondary Safety Slide
Glow in the Dark Carbon Fiber Scales
0.31" Handle Thickness
Reversible Pocket Clip
Lanyard Hole
2.31 Ounces
4" Closed
7" Overall
Made in the USA
Whether or not the Lord loves a Leek, we know we love a Leek and we especially love a neat Leek with glow in the dark carbon fiber handles. If you want to get a look at the Kershaw Leek 1660GLCF, click any link in the article or simply click the button below.


All images courtesy of Smoky Mountain Knife Works – smwk.com