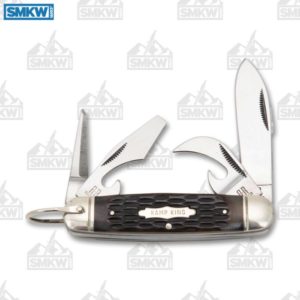 If you mention Kamp Kings around an old knife collector, they invariably smile fondly. That pattern has been around longer than most of us have been alive. With thin plastic handles and inexpensive carbon steel, it was widely known as a budget friendly user and often a kid's first knife. The Rough Ryder Kamp King takes that old budget friendly model and gives it black jigged bone handles and stainless-steel blades. Let's look at it.
The Rough Ryder Kamp King features mirror polished 440A stainless-steel blades and tools. It has a NEED MEASUREMENT spear point blade, a can opener, a bottle opener with screwdriver tip, and an awl. It has half stops and match strike pulls.
A nickel silver Kamp King shield accents the black jigged bone handles. It has nickel silver bolsters and a lanyard bail. It's 3.625" closed and weighs about 4.16 ounces.
Rough Ryder Kamp King Details
440A Stainless Steel, Mirror Polished
Spear Point
Can Opener
Caplifter with Screwdriver Tip
Awl
Slipjoint
Jigged Bone Handles
Brass Pins and Liners
Nickel Silver Bolsters and Kamp King Shield
Lanyard Bail
4.16 Ounces
3.625" Closed
You can pick up the nostalgic Rough Ryder Kamp King for about $15. To get this knife, click any link in the article or simply click the button below.


All images courtesy of Smoky Mountain Knife Works – smkw.com.