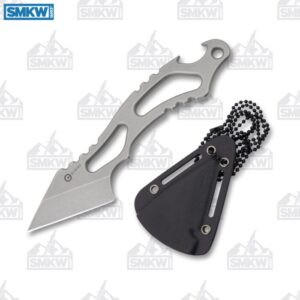 The CIVIVI Kiri-EDC is a small fixed blade knife that makes an outstanding neck knife or discrete EDC made by the WE Knife Co. At about $40, it's a budget friendly knife that makes an outstanding addition to any knife collection.
Designed by Alessandra De Santis, the Kiri-EDC features skeletonized, one-piece construction. It has a 1.8" 9Cr18MoV kiridashi blade with a blade thickness of 0.16" hardened to 58-60 HRC. In case you're unfamiliar with 9Cr18MoV, it's like 440B stainless steel. It's a high carbon, high chromium stainless-steel with a touch of vanadium to refine the grain structure a bit. It's available in either a stonewash finish or a black coated version. The blade shape makes this knife a perfect utility knife.
The 3.3" skeletonized handles have an incredibly slip resistant grip that's paracord wrap compatible and a nice thumb ramp. It also has a generous lanyard hole for attachments, which is always handy with a small knife. There's also a cap lifter at the butt end of the knife which is exposed even when this knife is sheathed. It comes with a black Kydex sheath with a black stainless-steel ball chain lanyard. It's 5.1" overall and weighs in at a miniscule 1.55 ounces.
CIVIVI Kiri-EDC Details
9Cr18MoV, Stonewash Finish or Black Coated
1.8" Kiridashi
0.16" Blade Thickness
58-60 HRC
Fixed Blade
Skeletonized, One Piece Construction
Cap Lifter
Lanyard Hole
Kydex Sheath
1.55 Ounces
5.1" Overall
The CIVIVI Kiri-EDC is a handy little utility knife you can pick up for about $40. To get this knife, click any link in the article or simply click the button below.


All images courtesy of Smoky Mountain Knife Works – smkw.com.