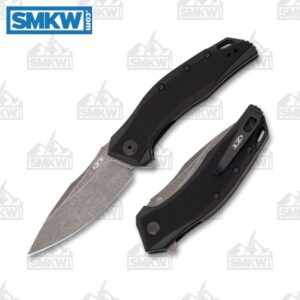 The ZT 0357 is a 2020 release from Zero Tolerance. It's a tough SpeedSafe assisted opener that's made right here in the USA. It has a good steel, a fast action, and it's built to be the total opposite of a safe queen.
The 0357 has a 3.25" CPM 20CV drop point with a blade thickness of about 0.12" and a flat grind. It's available in either a blackwash or working finish. It has a flat grind and a seriously long slicing edge, with a bit of a reinforced tip for outstanding cutting action. Speaking of action, because this is a SpeedSafe Assisted opening flipper, the action is of course simply outstanding.
This linerlock has machined G-10 handle scales on both the front and back for a super slip resistant grip, even under adverse conditions. The handle thickness is about 0.47" and handle length of about 4.4" so you can get a good grip, even if you have large-sized mitts. It has an ambidextrous, tip-up pocket clip and a generous lanyard loop.
ZT 0357 Details
CPM 20CV, Working or Black Wash Finish
3.25" Drop Point
0.12" Blade Thickness
60-62 HRC
Flat Grind
SpeedSafe Assisted Opener
Flipper
Linerlock
G-10 Handle Scales
0.47" Handle Thickness
Ambidextrous, Tip-Up Pocket Clip
Lanyard Loop
4.3 Ounces
4.4" Closed
7.625" Overall
Made in the USA
The ZT 0357 is an outstanding knife that's built to be a workhorse. It has a good steel, durable materials, and a fast action. It's made right here in the USA. If you're interested in this knife, click any link in the article or simply click the button below.


All images courtesy of Smoky Mountain Knife Works – smkw.com.