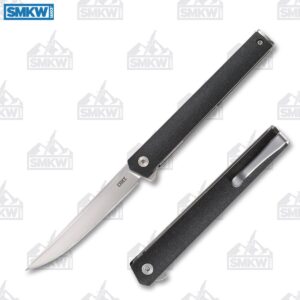 Not all of us are thumb stud abled. They just don't work for me, no matter how hard I try. I'm not less of a person because my thumb on a stud is much like my left hand (read: useless), and I've had to two-hand the original CRKT CEO like a toddler trying to pull apart two oversized Lego blocks for a couple of years now.  Yes, I know that I am equal to all of the thumb stud abled around the world, but I'm extraordinarily grateful that Richard Rogers and CRKT recognized my plight and gave us the CRKT CEO Flipper this year.
CRKT took Richard Rogers sleek, slim, original design and gave it a simple makeover to create the flipper version of the CEO. While the blade shape did not change, the steel did. It moved from 8cr13MoV to AUS 8. It's still .09″ thick and as sleek and sexy as ever, but it's slightly longer now as well. The CEO Flipper's blade is 3.35″ while the original is just 3.11″.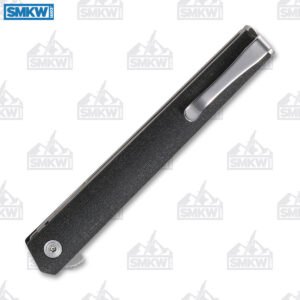 It's a manual flipper with the IKBS ball bearing pivot system that's housed inside steel liners with glass reinforced nylon scales. In the closed position, the CEO Flipper is just 4.35″ which is .1″ shorter than the original, and the flipper tab is relatively unobtrusive in comparison to other flippers.
I have to stop and say this. The action is superb. If flips as quickly and sharply as I've seen the thumb stud abled flick open the original. It practically feels like it's an assisted opener, but it's not.
This liner lock got a pocket clip makeover as well. It's thicker, wider, and looks more like a pen's clip than the original. It's a deep carry clip that locks over the butt of the knife and can be reversed for left or right handed use. And, it's now tip-up rather than tip-down.
At 7.69″ overall, the CEO Flipper grew just a hair from its original counterpart (.07″ to be exact), but it actually weighs .2oz less at 1.9oz.
CRKT CEO Flipper Details
3.35″ AUS 8 Straight Back Blade
.09″ Thick with a Satin Finish
Manual Flipper
IKBS Ball Bearing Pivot
GRN Handles with Steel Liners
Liner Lock
Deep Carry Ambidextrous Tip-Up Pocket Clip
4.35″ Closed
7.69″ Overall
1.9oz.
The brand new CRKT CEO Flipper runs about $40 retail which is the same price as the original. If you're not thumb stud abled like me, and you're interested in getting one of these, you can simply click any link in this article or the button below.