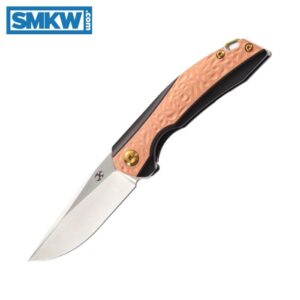 The Kansept Mini Accipiter is a pocket friendly, front flipping, fantastically built knife made with quality materials. Stylistically, it's a clean, simple design with just a touch of flair.
Now, I confess. I didn't know what an accipiter was, so I looked it up. It's a whole genus of hawks that look similar, live in the forest, and most particularly (according to Merriam-Webster) have "…a characteristic flight pattern of several quick flaps and a glide." I can honestly say the Mini Accipiter fits that description. It flips quick and almost glides closed with just the barest hint of a shake.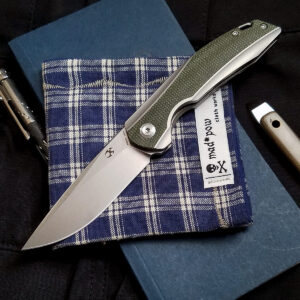 Designed by Kim Ning, the action on this knife is fantastic. The front flipper is easy to index and easy to use, with no awkward contortions required. The 2.9" S35VN drop point rides on a ceramic ball bearing pivot so deployment is lightning quick.
It has a simple, clean design with some gorgeous flowing lines and a carbon fiber, micarta, or copper inlay for a nice touch of color. This is a titanium framelock with a handle length of about 3.83". That's slightly larger than the Sod Buster Jr and slightly smaller than a Leek. It's just under 3 ounces and has a titanium tip-up pocket clip as well as a lanyard hole for accessories. All that means this knife is a super easy ride in your pocket.
Kansept Mini Accipiter Details
CPM-S35VN, Stonewash Finish
2.9" Drop Point
0.11" Blade Thickness
Flat Grind
Front Flipper
Ceramic Ball Bearing Pivot
Titanium Framelock
Micarta, Carbon Fiber, or Copper Inlay
Titanium Tip-Up Pocket Clip
Lanyard Hole
2.9 Ounces
3.83" Closed
6.73" Overall
The Kansept Mini Accipiter is a medium-sized EDC that practically disappears in your pocket. It has a fantasticly fast action, a clean look, and a solid build. If you're interested in this knife, click any link in the article or simply click the button below.


All images courtesy of Smoky Mountain Knife Works – smkw.com.