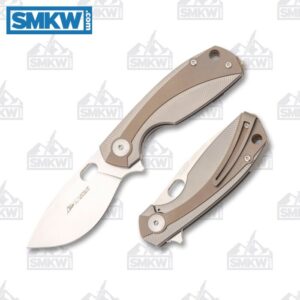 The Viper Lille is a curvy, dressy gentleman's folder with a ton of slicing capability. It's a medium-sized flipper with a fast action that rides just right in your pocket. Some might say the overall profile is a bit reminiscent of a Canadian Belt knife. Others (like the Editor) would loudly and vehemently disagree. Viper says, "…[the Viper Lille] was born for a real challenge: to replicate on a small scale the technological and mechanical qualities of a big sporting knife."
Although some (like the Editor) might prefer a bigger, beefier knife for me the Viper Lille is right down my alley. I buy knives based on how they look, and I love the look of this knife. I love the curves and lines of this knife. Combine that with an action that's stellar, and a feel in hand is fantastic and it's an overall winner for me.
The Lille is a manual flipper with a 2.5" Bohler M390 drop point blade riding on a ball bearing pivot with a secondary thumb hole opener for those that prefer the more Spydie-flicking type action. Options are never a bad thing.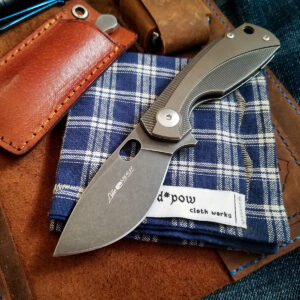 Now, I wasn't a bit surprised when I found out the Lille was designed by Jesper Voxnaes as his designs are often amongst my personal favorites. Take a look at the MKM Isonzo or the CRKT Pilar and you'll likely notice Jesper Voxnaes designs tend toward the curvy side. This one has a skinny "neck" and a curvy handle that both looks and feels outstanding in hand. It's a titanium framelock with a handle thickness of 0.61", so it's bit thicker than you'd expect.
It has extensive milling with a smooth "tie" overlay which allows for contrasting colors and textures. It also has a tip-up pocket clip and lanyard hole for accessories. As far as the size goes, despite its dressy, gentleman's folder appearance, it's actual size is around about the same as the ProTech SBR. It's 3.75" closed, and it weighs just under 3 ounces. It makes a comfortable, discreet ride in just about any pocket.
Viper Lille Details
M390, Satin Finish
2.5" Drop Point
0.12" Blade Thickness
Manual Flipper, Thumb Hole Opener with Ball Bearing Pivot
Titanium Framelock
0.61" Handle Thickness
Tip-Up Pocket Clip
Lanyard Hole
2.92oz
3.75" Closed
6.25" Overall
Made in Maniago, Italy
The Vox designed Viper Lille is takes all the goodness of a larger hunting knife compacted into dressy gentleman's folder. It's a beautiful, well-built modern folder with outstanding materials and a pocket friendly ride. If you're interested in this knife, click any link in the article or simply click the button below.


All images courtesy of Smoky Mountain Knife Works – smkw.com.