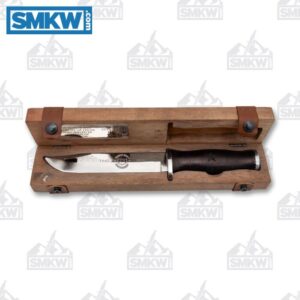 The Condor World War II Commemorative knife is seriously beautiful, and the presentation is spot on. It's a limited-edition bowie. It comes with a presentation box as well as a certificate of authenticity. The truth of the matter is, we're all accustomed to seeing hard use bushcrafting and utilitarian knives (even with some outstanding design flair and gorgeous wood handles) from Condor. This knife drew a crowd in the office with everyone ooh-ing and ahh-ing and getting fingerprints all over our display model. Although it's not a massive departure from what Condor does best (beautiful knives and tools that are meant to be used) it's a nice one. And, like we said one sentence ago, it literally drew a crowd in the office.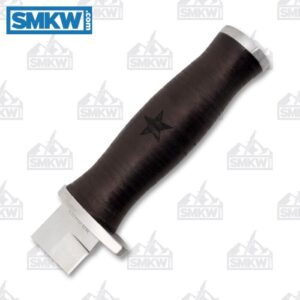 This bowie is Condor's take on the classic WWII Fighting Knife. It features a 7" mirror polished 1075 carbon steel blade with a 0.2" blade thickness. It has blade etch that commemorates the 75 years since the end of WWII (1945-2020).
It has beautiful stacked leather handles with a bit of a palm swell and a star cutout. Both the pommel and guard are polished stainless steel. It has an overall length of 12.2" and weighs about 10.97 ounces.
It comes with a lined, wooden presentation box with leather snap closure. The top of the box mirrors the blade etch. Inside the box is a plaque that reads, "In honor and memory of those who served in the defense of freedom."
Condor World War II Commemorative Knife Details
1075 Carbon Steel, Mirror Polished
7" Clip Point
0.2" Blade Thickness
Fixed Blade
Stacked Leather Handles
Stainless Steel Guard and Pommel
Presentation Box
Certificate of Authenticity
10.97 Ounces
12.2" Overall
The Condor World War II Commemorative Knife is just a beautiful overall package. It makes an outstanding gift or presentation knife. It's a limited edition so make sure you get yours before it's gone. If you're interested in this knife, click any link in the article or simply click the button below.


All images courtesy of Smoky Mountain Knife Works – smkw.com.