This is an exciting time for me at Knife Newsroom. When I came back from my lunch break there was a package casually sitting on my desk. The label read Benchmade, and I began to tear it apart like a child on Christmas morning. To my amazement, it was the new Benchmade Anthem! For months, I sang its praises to everyone I met, but this is the first time I actually held it in my hand. Huge thanks to Smoky Mountain Knife Works for sending one over and making my day. Now the hard part. Where to begin.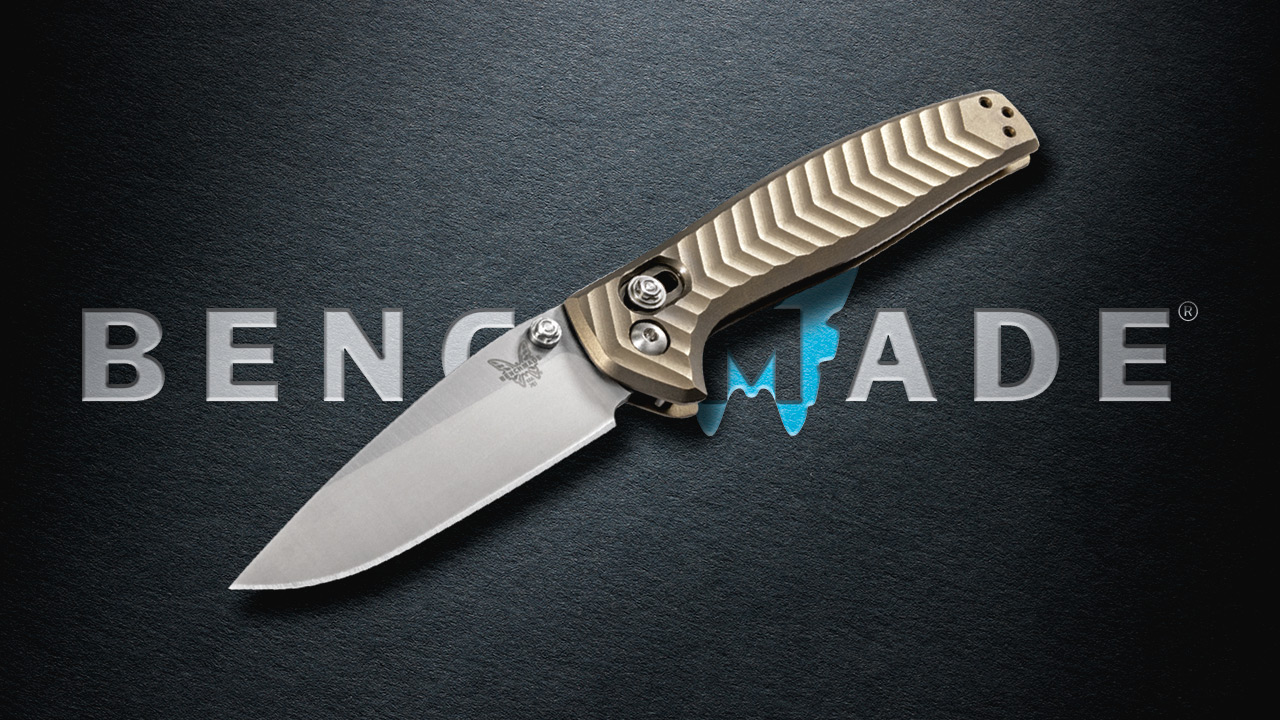 The Benchmade Anthem's handle stands out. It's unique compared to anything else Benchmade makes. Benchmade milled the handle from a single piece of billet titanium, which means the Benchmade Anthem doesn't have the traditional two piece handle. The bronze anodized finish won't wear off like other handle materials. The pocket clip features the same deep-milled chevron pattern as the handle, and that pattern is easily one of the hottest designs on the market right now.
The handle is great, but the blade on the Benchmade Anthem doesn't disappoint either. Its a 3 1/2″ drop point made of high-quality CPM-20Cv stainless steel. The satin finish blade features unique thumb studs, and Benchmade didn't cut any corners with its choice or materials. CPM-20Cv is one of the most desired steels in their lineup (if not the world). It's not the easiest thing to sharpen, but here's the thing. I did both a paper and cardboard test with this knife, and it's crazy sharp right out of the box.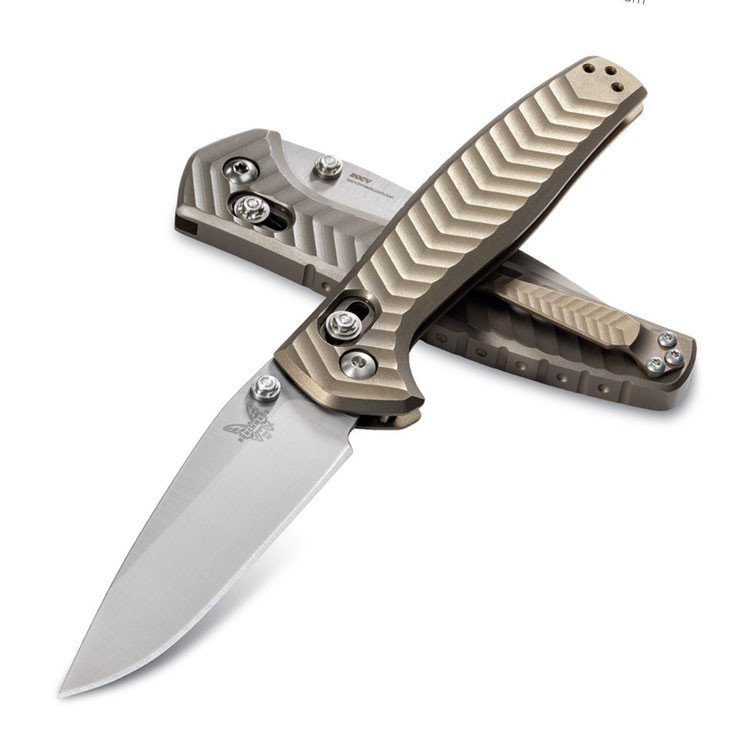 Benchmade still proudly makes their products in the USA, and the Benchmade Anthem reflects their craftsmanship. However, if something does go wrong with the knife or the blade, they do have a great warranty. You can always send it back to them for any service issues and even sharpening. Their Lifesharp service is a fan favorite and adds a huge benefit to owning one of their knives.
The Benchmade Anthem Details
CPM-20Cv Stainless Steel
Single piece billet titanium handle
Axis lock
3 1/2″ blade
8 1/16″ overall
Made in the USA
Guys, the Benchmade Anthem is easily my favorite Benchmade knife produced today. The Benchmade Anthem will easily be one of the hottest selling new knives this year. The good people at Smoky Mountain Knife Works (smkw.com) have them  available for $425.99. For a knife of this caliber, that's a steal! You can find the Benchmade Anthem by simply clicking the link below.