To honor the talent of renowned wildlife artist R.J. McDonald, Case released the "Impending Challenge" signature series that feature R.J.'s work. This series started in 2016 and is now entering its second year. This year's knife is a trapper that features a unique scene of a buck and doe in the forest. These knives are very collectable and deserve to be on display. If you're a fan of art and cutlery, this may be the knife for you.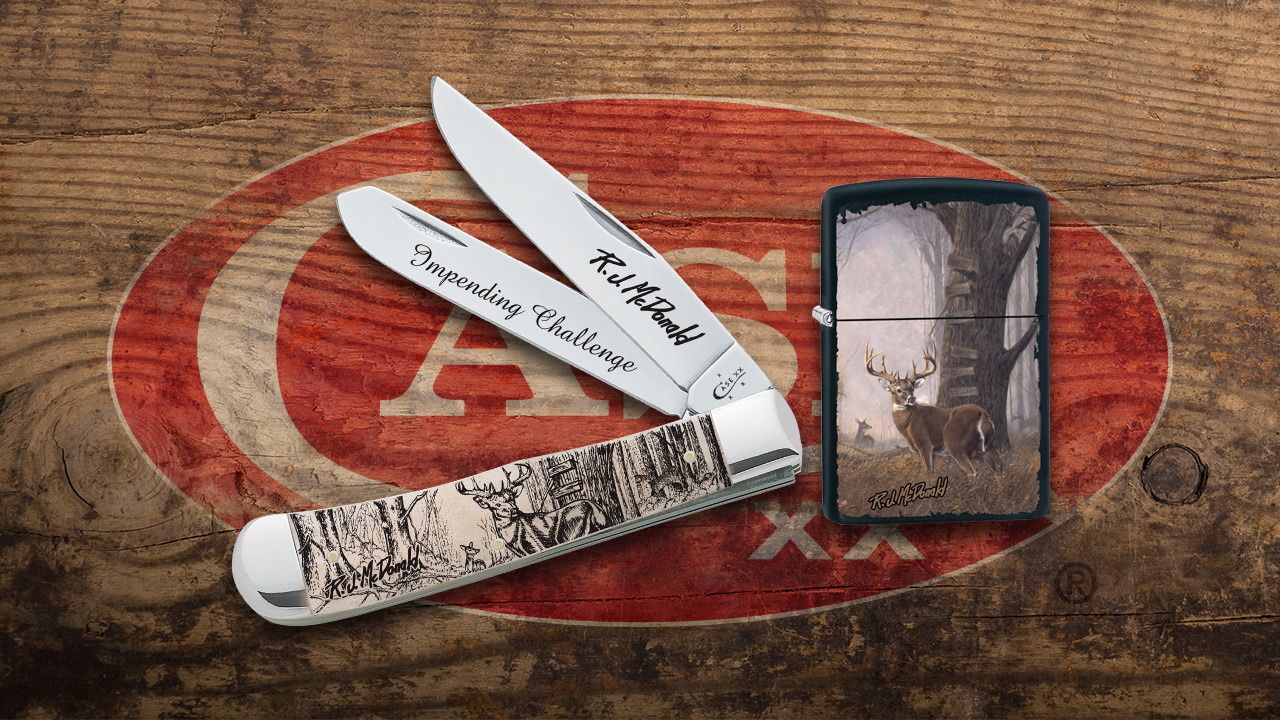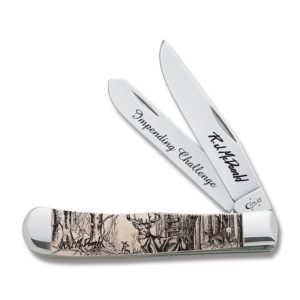 R.J. McDonald's image on this knife shows an intricately detailed scene of a forest thicket. Standing in the center of the image is a buck in the foreground with a doe approaching from the background. Case used cutting edge laser technology to engrave the image into genuine bone handles. To prevent the bone from fracturing or chipping, Case took special care to select a prime cut of bone. To complement the beauty of the handles, Case added polished nickel silver bolsters.
Like most Case tappers, this knife features embellished Tru-Sharp surgical steel blades. The pro to these blades is their superior corrosion resistance. When on display for long periods of time, they don't need to be polished or oiled to stay flawless. The clip point blade is embellished with "R.J. McDonald" and the spey with "Impending Challenge." They are polished to a mirror finish to match the bolsters on the handle.
The "Impending Challenge" Trapper Details
 Tru-Sharp Surgical blades
Genuine bone handles
R.J. McDonald artwork engraved handles
Exclusive blade embellishments
Nickel Silver accents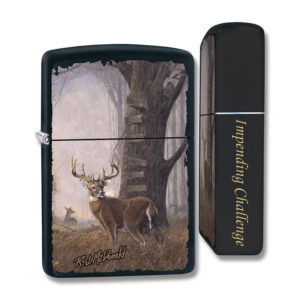 One thing worth mentioning with this knife is the complementing"Impending Challenge" Zippo lighter. The lighter features the colorful original artwork of what's on the knife handle. It's a tasteful piece to put on display with the knife, or just to appreciate as a beautiful Zippo itself.
We found this series at Smoky Mountain Knife Works (smkw.com). The Case "Impending Challenge" knife is retailing for $69.99 and the "Impending Challenge" Zippo for $21.99. They are actually on the cover of their latest October catalog. If you don't get a free smkw catalog, you can easily sign up for one on their website.