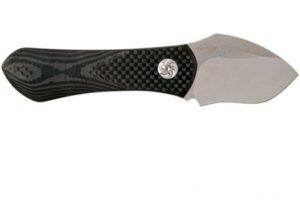 The Kizer Thumbper is the neck knife for people with big hands. Don't get me wrong, I love the ESEE Izula and TOPS Bartender Defender, but they just don't fit right in my hand. The Thumbper is a Matt Cucchiara design and features a longer than most handle for a neck knife. The Thumbper balances comfort and ergonomics with concealability and compactness.
The Thumbper's CPM-S35VN blade is both attractive and practical. It features a stonewash finish and spear point design with convex grind. What that really boils down to is this. The blade has great puncturing/stabbing capabilities for self-defense and a grind that excels at precision cutting and slicing. This versatile design makes the Thumbper a great choice for a wide variety of tasks.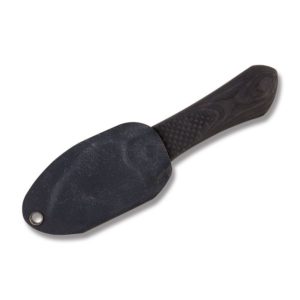 Your knife is only as strong as its weakest point. The Thumbper's handle is made to be just as durable and strong as the blade itself. It's a full tang design that's covered with carbon fiber handles. The handle is about 3.9″ long which makes it a comfortable neck knife to hold and use.
While the handle is longer than others on the market, the carbon fiber design kept the Thumbper's overall weight under 4oz. This makes it very comfortable, easy to carry and easy to use. It won't leave you constantly making sure your hands are clear of the blade.
The Thumbper comes with a black kydex neck sheath. Kydex is durable, lightweight, and has no problem with moisture or unforgiving environments. The Kydex features a metal eyelet that's used to attach it to your lanyard. Kizer includes a section of durable cordage to attach it to your neck, but feel free to use whatever your accustomed to.
Kizer Thumbper Details:
CPM-S35VN stainless steel blade.
Stonewashed finish
Carbon Fiber handle
Full tang construction
Black Kydex neck sheath with lanyard rope
2″ spear point blade
1/8″ Blade thickness

3 4/5″ Handle length

5 7/8″ Overall length

1.82oz Overall weight
The Kizer Thumbper is a great neck knife that's not too small for people with bigger hands. This knife is a great balance of performance and compact size. You can find this knife by clicking the links in this article or by clicking the button below.