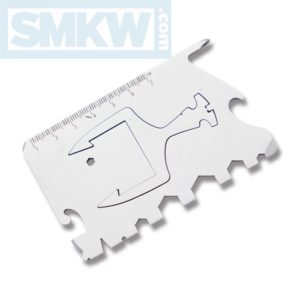 We've all seen these steel survival cards you throw in your pack or wallet, but the new Marble's Survival Gig Card really packs a punch for the price. With a price tag of only $6.99, this stainless steel card features more than 15 tools. It also features something I've never seen in a survival card: a frog/fish gig head.
The Survival Gig Card is solid 1/8″ thick stainless steel construction and features a 2.5″, two-point gig head that you push out of the center. In a survival situation, you can pop the gig out of the center of the tool, lash it to a branch, and catch dinner. And that doesn't even touch the plethora of other tools at your disposal when you have this card.
The card itself is 4″x 2.5″ x 1/8″ which makes it slightly larger than a business card. The four corners feature screwdriver tips including three sizes of flat head screw drivers and one Phillips Head tip. Marble's labeled all of the tools for ease of use, including a straight edge with a standard ruler on the front and a metric ruler on the back. There's a can opener and a bottle opener, as well as a wirestripper and rangefinder. Opposite the ruler edge, the tool features six standard wrench sizes.
Marble's Survival Gig Card Details
1/8″ Stainless Steel Construction
4″ x 2.5″ overall.
Removable Gig Head
Standard/metric ruler
Screwdrivers on the four corners — Phillips, and small, medium and large flathead
Range finder
Can opener
Wire stripper
Cap lifter
Wrench sizes — #4, #8, #12, #10, #6, #2
Imported
The Marble's Survival Gig Card is feature rich and sturdy. At just under $7 each, they're affordable enough to buy a few. I might throw one in my backpack and one in my car. They may come in handy one day. If you'd like one of these, simply click any link in this article or the button below.