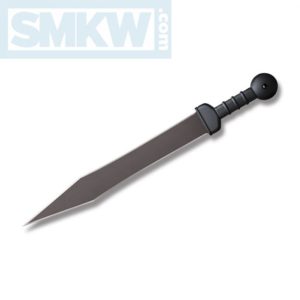 With the Cold Steel Gladius, you can have a bit of fun while whacking at weeds and brush when you're in the back of the beyond. We confess, we might have been butchering lines from Gladiator while testing this magnificent beast in the backyard. We might also have to confess that we might have mumbled "it's only a flesh wound" after doing something completely dumb. We still think it was fun.
If you want a safer version of a machete, this probably isn't the tool for you. The blade is sharp all the way around, straight out of the box. If you get too enthusiastic on your back swing – well, trust us, you just shouldn't do that.
The shape of the guard and pommel on this machete/sword might be very old world, but there is modern technology in every inch.  Full tang constructed, the spring tempered 1055 carbon steel blade is coated with a black, baked-on anti-rust coating and is hand sharpened by Cold Steel at their Ventura facility. It easily takes and retains a wicked sharp edge. The handle is sturdy high-impact polypropylene, and it also includes a Cor-Ex sheath with a nylon belt loop.
Cold Steel Gladius Machete Details
1055 Carbon Steel
Black Baked on Anti-Rust Matte Finish
Polypropylene handle, guard and traditional ball pommel
Lanyard Hole
18″ Blade
26-7/8" Overall
Cor-Ex Sheath With Belt Loop
27.2 oz
All in all, we seriously enjoyed hacking our way through the brush with the Cold Steel Gladius. If you're interested in this knife, click any link in the article or simply click the button below.