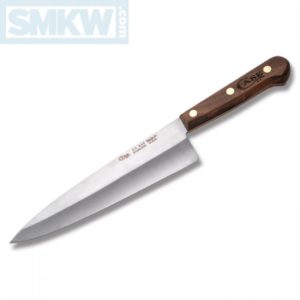 When you think of Case knives, kitchen knives aren't what you think of, but there's a whole line of high quality, affordable Case kitchen knives. From a Parers and Santukos to full block sets (in both synthetic and walnut handles), Case really does kitchen knives right. If you have Case lovers on your Christmas list this year, think about putting Case in their kitchen this Christmas too. Let's have a look at what Case offers for the kitchen.
Case Kitchen Knives Details
There are really two styles of kitchen knives from Case. First, Case offers walnut handled kitchen knives with their trademark Tru-Sharp surgical steel. These knives are gorgeous, and all feature triple brass rivets in the handles. They really make us reminisce about the knives our grandmother had in her kitchen.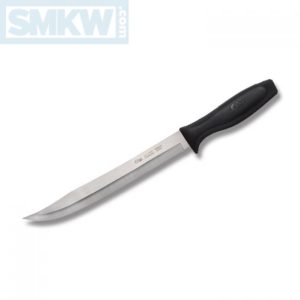 However, if you're looking for something a little more modern and ergonomic, Case offers that too. Case also offers most of their kitchen patterns with black synthetic, ergonomic handles as well. These sit in your hand nicely, have no rivets, and are far easier to clean up and care for than the walnut handle versions. They still come in Case's trademark Tru-Sharp surgical steel and both styles are – you guessed it – made in the USA.
Now, here's the part that kind of blew us away. They're extremely affordable. An 8″ chef's knife is about $38 in the walnut handle and $34 in the synthetic handle. The 3″ Parer is about $20 and $17 respectively. In fact, you can pick up a nine piece block set in walnut for about $275 and about $242 for synthetic handles. Comparatively speaking (and especially for American made knives), that's extremely reasonable.
Click on any thumbnails below to launch a slide show of larger images.
These Case kitchen knives are high quality and affordable, and they're made in the USA. We think they'd make the perfect Christmas gift for the Case lover in your life. Interested in any of these knives or even a full set? Simply click any link in this article or the button below.