Sometimes you just need some inexpensive gifts or stocking stuffers. Here's a list of five knives that you can get for less than $5 to round out your Christmas shopping list.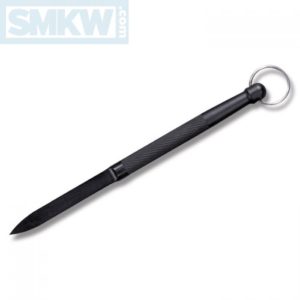 Nothing makes us merrier than watching Lynn Thompson stab stuff on a Cold Steel video, and the Cold Steel Delta Dart is no exception.  We wanted to know more after watching him stab this slim, triangular dart through about nine layers of cardboard and almost a quarter inch of oak sole leather. Made from corrosion impervious Zy-Ex, the Delta Dart is textured for a slip resistant grip, and the butt is rounded for both the thumb and palm position. It also has a key ring attachment.
Cold Steel Delta Dart Details
One Piece Zy-Ex Construction
3.5" Dart
Lanyard Hole with Ring Attachment
8.125" Overall
1 Ounce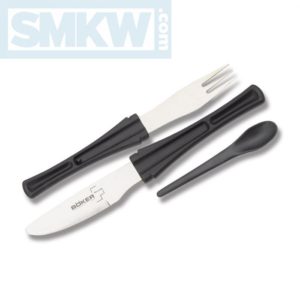 We've talked about the awesome Boker SnacPac before. The lightweight 8.5" polypropylene clam holds all the utensils you need for camping, hiking, or lunch time adventures. There's a 420J stainless steel fork and partially serrated knife, a dessert spoon, and a refillable salt and pepper shaker.  Not only is it perfect for next season's hike, it's lunchbox friendly and makes a fantastic, last minute, budget friendly gift.
Boker Snac Pac Details
8.5″ Polypropylene Clam holds all 3 Utensils
Polypropylene Dessert Spoon
420 J Stainless Steel and Poly Knife and Fork
3.5″ partially serrated knife blade
Refillable Salt and Pepper Shaker Chambers
Dishwasher Safe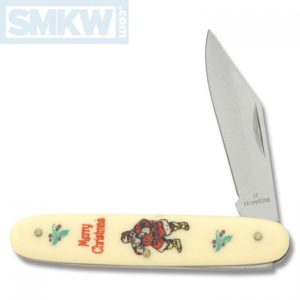 There's no better time to buy a Frost knife than between now and December 31st. Why? Right now, Frost Cutlery has partnered with Wilderness at the Smokies and Smoky Mountain Knife Works for "A Season of Over 150 Winners" sweepstakes. Every time you buy a Frost Cutlery knife, you're automatically entered to win. The grand prize winner receives a 3 day, 2 night stay at Wilderness in the Smokies and a $1,000 gift card Shipping Spree sponsored by Frost Cutlery. But that's not all, the grand prize winner also gets a presidential dinner with cutlery legends Jim Frost, owner of Frost Cutlery, and SMKW owner Kevin Pipes.
A great place to start your entries is with the Frost Santa Merry Christmas knife featuring the Coco-Cola Santa. This very retro-looking traditional folder has a 2.375" stainless steel clip point blade and imitation ivory handles. With a closed length of only 3.375", it's a fun and easy carry.
Frost Santa Merry Christmas Details
Stainless Steel, Mirror Polished
2.375" Clip Point
Imitation Ivory Handles
3.375" Closed
6.75" Overall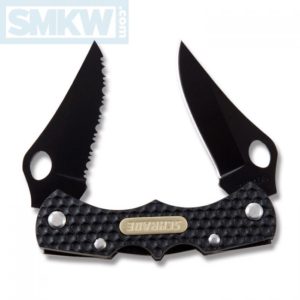 Schrade Cutlery has a ton of knives you can get for about $5 or less. They have a ton of different opening mechanisms, a bunch of different profiles, and options galore.
Take, for instance, the Schrade Small Double Lockback. This knife features two black coated 8Cr13MoV blades, one plain edge and one serrated. They open with a thumb hole and each blade locks independently with a back lock. Finally, it weighs about 2 ounces and also has a pocket clip making it an incredibly versatile, easily carried knife.
Schrade Small Double Lockback Details
8Cr13MoV
2.313" Clip Point Blades, One Serrated and One Plain Edge
Rubber Coated Aluminum Handle
Double Lockback
Thumb Hole Opener
Pocket Clip
3" Closed
7.375" Overall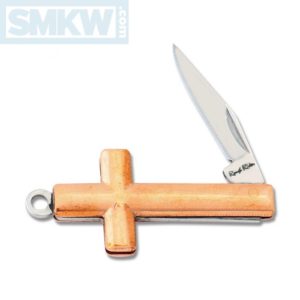 For the price, there's no one better than Rough Rider Knives. Whether it's an affordable fixed blade or a folder, a neat novelty knife or a super small mini knife they've got it.
Take, for instance, the Rough Rider Cross Pendant knife. It makes a fantastic stocking stuffer or inexpensive gift you can get for about It's available with copper, white smooth bone, or purple smooth bone handles. Discreetly tucked away inside the cross pendant is a 1.125" stainless steel clip point blade. It also has a loop to attach either a necklace or a keychain (not included).
Rough Rider Cross Pendant Knife Details
Stainless Steel, Mirror Polished
1.125" Clip Point
Copper or Bone Handles
Slip Joint
1.75" Closed
2.9" Overall


Tons of choices and options with these gifts, all of which are under $5. If you're interested in these knives, click any link in the article or browse the entire selection by clicking the button below.

All images courtesy of Smoky Mountain Knife Works – smkw.com.